By Tim Saunders on
Lady Gaga has designed a charity bracelet to raise money for victims of the devastating earthquake and tsunami in Japan.
The We Pray For Japan bracelet is on sale now for $5 from the singer's website, with buyers able to add extra donations when they make their purchase. All money will go to japan tsunami relief.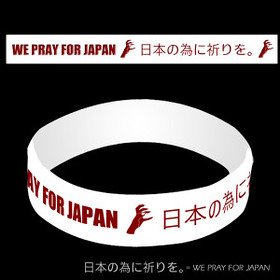 Lady Gaga has joined the out-pouring of support for the country after the 8.9 magnitude earthquake and subsequent tsunami hit Japan on Friday.
"Japan is one of my favorite places on earth," said Justin Bieber. "It's an incredible culture with amazing people. My prayers go out to them. We all need to help."
Many stars took to Twitter to appeal for help: "Seeing all of this footage in Japan is devastating!" tweeted Kim Kardashian. "Please help the people of Japan by texting REDCROSS to 90999 to make a $10 donation."
Other stars to reach out to victims include Taylor Swift, Alicia Keys, Britney Spears, David Archuleta and more.