Following last year's incredible success, Britain's biggest celebrity charity pop-up shop is back – and it's better than ever.
For ten days only, The Oxfam Curiosity Shop will sell celebrity fashion donations, sought-after samples and vintage clothing hand-picked from Oxfam's 700 shops. There will also be celebrity styling sessions, plus special VIP appearances.
The shop has once again been created and stocked by a team of high profile personalities led by Annie Lennox and Whistles CEO Jane Shepherdson – and all the money raised will fund Oxfam projects around the world that support and empower vulnerable women.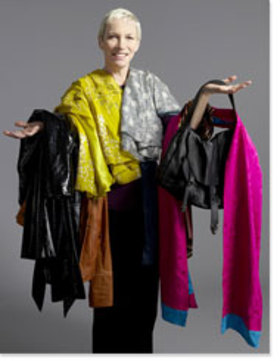 "The Oxfam Curiosity Shop is very close to my heart. It's a wonderful way of harnessing the ideas, skills and resources of influential women to fight poverty," said Annie.
Stars have already lined up to donate fashion from their own closets to the charity shop, with celebrity donations coming in from Colin Firth, Scarlett Johansson, Helen Mirren, Pixie Lott, Natalie Imbruglia, Dannii Minogue, Beverley Knight, Kate Moss and many more.
"I'm delighted to be able to donate the beautiful Dolce and Gabbana dress I wore to the opening night of my Broadway play," said Scarlett.
Last year, more than 30,000 customers visited the shop in just one week, raising an amazing £250,00 for Oxfam's work.
This year's shop will be located at Selfridges on Oxford Street in London, April 1-10.
The Curiosity shop raises money for Oxfam circle projects around the world that empower women and really make a difference. If you can't make it to London, you can get involved online. So put the dates in your diary now and watch this space.
It's the ultimate pop-up shop, it's all for charity, and it's opening soon.