An open letter to UK Prime Minister, David Cameron, has been signed by a host of politicians, primatologists, scientists, academics, wildlife experts and celebrities. The letter calls on the UK Government to dissociate itself from the cruel trade in wild-caught primates for research.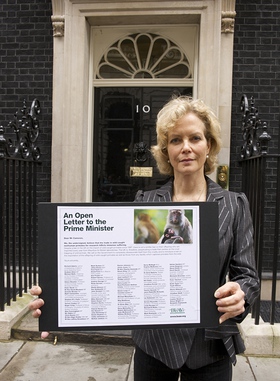 Jenny Seagrove with BUAV letter at 10 Downing Street
Celebrities supporting the BUAV campaign include Queen guitarist Dr Brian May, actor and comedian Ricky Gervais, actress Jenny Seagrove, model Twiggy and singer Toyah. They are joined by world famous primatologist and founder of the Jane Goodall Institute, Dr Jane Goodall, actress and wildlife campaigner Virginia McKenna, environmentalist Jonathon Porritt, conservationist Ian Redmond, author Richard Adams, human rights campaigner Peter Tatchell and TV wildlife presenters Simon King, Michaela Strachan, Bill Oddie and Mark Carwardine as well as politicians, leading academics and scientists.
The source of primates used in research raises important welfare concerns. Many primates used in UK laboratories are imported from countries such as Mauritius, and despite a UK ban on the use of wild-caught primates in research since 1997, there is no such ban on their offspring or those from farms which trap wild primates for breeding purposes. The capture of primates from the wild inflicts great suffering which has been recognised by a number of organisations and official bodies, including the UK government's own advisory committee, the Animal Procedures Committee.
Dr Brian May CBE, musician and Founder of Save Me: "The imprisonment and abuse of wild animals must stop. BUAV has uncovered evidence of monkeys ripped from their jungle homes and families, and forced to produce babies who will be shipped to laboratories around the world. The UK plays a major part in allowing this cruel trade to continue by importing monkeys from countries such as Mauritius for British laboratories. On behalf of the Save Me foundation, I call on the Government to cut all ties with this cruel trade immediately."
"Imprisoning monkeys and snatching their babies is a disgusting way to treat other primates," added Ricky Gervais. "Monkeys are highly intelligent beings who feel pain and distress, just like us."
The letter was handed in to No 10 Downing Street at 11am on Thursday 31st March by BUAV CEO Michelle Thew, actress Jenny Seagrove and MPs Kerry McCarthy, John McDonnell, Annette Brooke and Simon Wright.