Meryl Streep is helping to raise funds for the women survivors of war by providing two VIP tickets to bid for on eBay to attend the London premiere of her new film, THE IRON LADY. It will be an incredible to experience this event and also support the work of Women for Women International.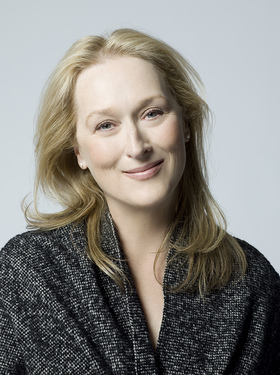 The exclusive VIP experience will include:
Two passes to the London premiere of 'The Iron Lady'
Walk the red carpet
A meet and greet with Meryl Streep
THE IRON LADY tells the compelling story of Margaret Thatcher, a woman who smashed through the barriers of gender and class to be heard in a male-dominated world. The story concerns power and the price that is paid for power, and is a surprising and intimate portrait of an extraordinary and complex woman. 

Kate Nustedt, UK Executive Director, Women for Women International says,
'This is a once in a lifetime opportunity to experience the Meryl Streep red carpet moment of her eagerly anticipated 'IRON LADY' performance and at the same time you will be changing the life of a woman survivor of war'.

The film stars Academy Award-winners Meryl Streep as Lady Thatcher and Jim Broadbent as Denis Thatcher. The rest of the cast of family and friends, politicians and advisers, is made up of the very best of British acting talent, including: Olivia Colman, Nicholas Farrell, Susan Brown, Roger Allam, Anthony Head, Julian Wadham, Pip Torrens, Nick Dunning, Richard E Grant, David Westhead, Angus Wright and John Sessions. 

Written by award-winning writer Abi Morgan (Sex Traffic, Brick Lane, White Girl), directed by Phyllida Lloyd CBE (Mamma Mia) and produced by Damian Jones (The History Boys, Adulthood). 

Women for Women International invests in women survivors of war, working to change the world, one woman at a time. Because stronger women build stronger nations.
Women for Women International believes that access to knowledge and voice, plus access to and control of economic resources, leads to lasting change for women.
Over the last 18 years, Women for Women has transformed the lives of more than 299,000 socially excluded women survivors of war, benefiting more than 1.4 million family and community members in the process.
Women for Women's programmes seek to deliver four outcomes to ensure that women achieve lasting change and participate in the development of their national economy:
• Women are well
• Women are decision-makers
• Women have social networks and safety nets
• Women earn an income
These outcomes are achieved through their holistic set of programmes that provide women with direct aid; rights awareness and leadership education; vocational and business skills training; and access to local, national and international economies.
The auction runs until May 15, and can be accessed here.