On Wednesday night, May 11th, while celebrating the opening of Hublot's Madison Avenue Flagship, Hublot CEO Mr. Jean Claude Biver and amFAR founder Dr. Mathilde Krim unveiled the Big Bang Black Magic amfAR watch, a limited edition 100-piece design celebrating amFAR's 25th anniversary, created to support the global struggle against HIV/AIDS.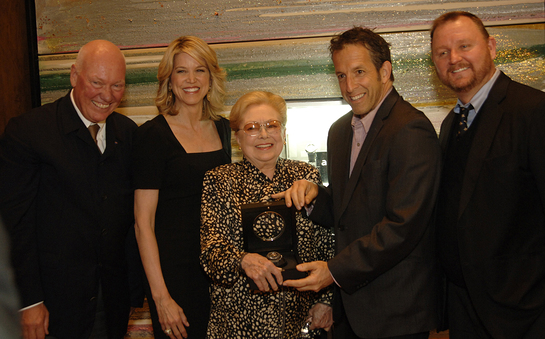 Jean-Claude Biver, Paula Zahn, Dr. Mathilde Krim, Kenneth Cole, Kevin Frost
Guests of the special unveiling included Kenneth Cole, Paula Zhan, Hublot ambassador and supermodel Veronica Varekova amongst others, who enjoyed a private viewing of the newest Hublot timepieces and while sipping on champagne and tasting a custom A la Biver menu, made with his own home-made cheese.
"We feel honored to be joining amfAR's efforts in the fight against HIV/AIDS", said Hublot CEO Jean-Claude Biver. "The vision truly resonates with our top principle of 'sharing' and we hope that through our partnership we are able to bring greater light to this important issue".
"In choosing to partner with amfAR and to support our efforts to bring the AIDS epidemic to an end, Hublot is making an important contribution to AIDS research and global health. We're very grateful for their support," said Dr. Krim.