Their Royal Highnesses, the Duke and Duchess of Cambridge, better known to Royals watchers as William and Kate, took part in a care package stuffing event at the Sony Pictures Studios in Los Angeles during their trip to the US. In partnership with the USO and Blue Star Families, the Royal Couple helped to create 1,000 care packages for military children as part of their highly anticipated North American trip.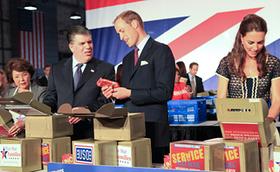 The kits that were produced focus on the children of military families who have parents deployed. Conceived and created by the Trevor Romain Foundation, "With You All the Way" kits help children and their families prepare for deployment, stay connected during the separation and plan for reintegration upon their return home.
"The USO is extremely proud to be a partner in this very important effort to connect people who have served in the military, and their spouses, with potential employers," said Frank Thorp, senior vice president for marketing and communications for USO. "And stuffing Trevor Romain 'With You All The Way' kits as the service project for the event was perfect as it also reminded us of the challenges that children of our troops make when their Moms and Dads serve."
The kits that were assembled by the Royal Couple and volunteers will be delivered to kids and families based in California, the island of Guam and other areas that are in need of the valuable comfort and support that Trevor Romain consistently delivers for the USO.
Prior to the care package stuffing event, the Royal Couple assisted ServiceNation: Mission Serve, a civilian-military initiative dedicated to bringing together civilian and military communities through service and volunteerism, in conducting the organization's largest job fair for military veterans called "Hiring Our Heroes Los Angeles." The goal was to connect 1,500 veterans and their families with 200 prospective employers.
"We are absolutely thrilled that the Duke and Duchess of Cambridge will join us in supporting and engaging our nation's heroes in the workplace and in service," said ServiceNation Executive Director Greg Propper prior to the event. "We are working to inspire a powerful culture of service in America, and the July 10 hiring fair and service project offers a tremendous advancement in this effort."
The Foundation of Prince William and Prince Harry is the Princes' primary charitable vehicle and has as one of its core aims to raise awareness and support for the Servicemen and women who put their lives on the line for their country. A key part of this focus is assisting efforts to ensure the best possible re-integration and employment of veterans and military families. The Foundation recognizes the tremendous work being done on this in the United States, led by First Lady Michelle Obama and Dr. Jill Biden through their Joining Forces initiative.
Source: USO