Iconix Brand Group, Inc. has unveiled its Fall 2011 celebrity charity campaign for its Danskin brand, featuring some famous faces.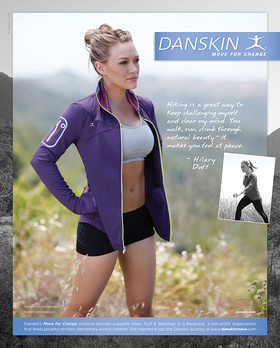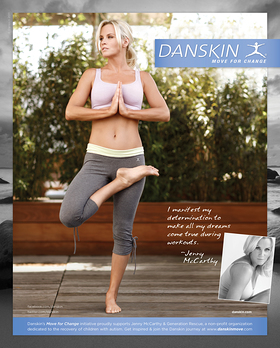 The national campaign and goodwill initiative titled, "Move for Change" features actress, singer and author, Hilary Duff, actress and author, Jenny McCarthy, TV personality, Padma Lakshmi and supermodel and actress, Christie Brinkley. The marketing campaign is representative of women of all ages who promote a healthy lifestyle and well-being. As part of campaign, Danskin has formed the Danskin "Move for Change" initiative, a goodwill movement dedicated to the health and wellness of women and children. The movement was created to continually support organizations and programs that research, foster and fund women and children's health initiatives.
The "Move for Change" campaign showcases each of the women in their own creative engaging in their daily fitness routine with an inspirational quote to motivate the consumer. Hilary Duff is hiking, Jenny McCarthy is practicing yoga, Padma Lakshmi is boxing and Christie Brinkley is dancing. Danskin proudly supports each woman's charities and they are featured in all of the marketing materials. The national marketing campaign will debut this fall in fashion, lifestyle and entertainment magazines, as well as outdoor and online vehicles.
In addition, Danskinmove.com, an interactive site will launch simultaneously with the campaign. The microsite will focus on health, wellness, motivation and inspiration. The website will feature celebrity relevant content including inside access to Danskin events, exclusive fitness tips, information on each celebrity's charity and promotions to shop on Danskin.com.
Hilary Duff stated, "This Danskin campaign is for women of all ages – 20's, 30s, 40's and 50's and what they like to do to stay in shape—physically and mentally in mind, body, and soul."
Christie Brinkley added, "Danskin is generously donating to each individual's charities and I think that is so motivational to show people that you not only have to stay fit, but you also have to give back and all of those things make you feel great."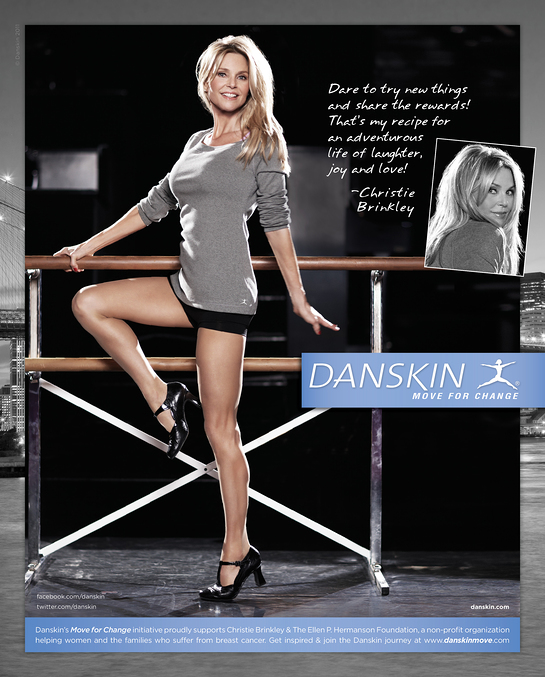 Jenny McCarthy added, "I am so excited that Danskin decided to have a charity component to this campaign. Generation Rescue is my autism organization, which helps families who are low-income. It's a really great way for me to share awareness about autism and how it's become, unfortunately, so popular in the last decade."
Padma Lakshmi stated, "Danskin is a brand that we've all grown up with. It's the epitome of a strong and graceful femininity. I'm honored that they chose to support the EFA."
Danskin "Move for Change" proudly supports each of the celebrity's personal charities below:
Blessings in a Backpack, a non-profit organization that feeds poverty-stricken elementary school children.
Generation Rescue, a non-profit organization dedicated to the recovery of children with autism.
The Endometriosis Foundation of America, a non-profit organization helping women suffering from endometriosis.
The Ellen P. Hermanson Foundation, a non-profit organization helping women and families who suffer from breast cancer.
Dari Marder, chief marketing officer, Iconix Brand Group, commented, "We are thrilled to launch the 'Move for Change' campaign. These amazing women are so inspiring, and we know our consumers will embrace their inspirational tips on fitness, lifestyle and wellness at Danskinmove.com. As a brand exclusively for and about women, we know a connection point is through philanthropy. We are proud to support Hilary, Jenny, Padma and Christie's charities as a natural component of this campaign."
Join the move for change at www.danskinmove.com. Become a fan on Facebook at www.facebook.com/danskin or follow them @Danskin on Twitter.