In advance of the nationwide screenings of God Bless Ozzy Osbourne, on Aug. 22 producer/filmmaker Jack Osbourne and Eagle Rock Entertainment will host a special private preview of the documentary benefitting the MusiCares MAP Fund at the ArcLight Cinerama Dome in Hollywood, Calif.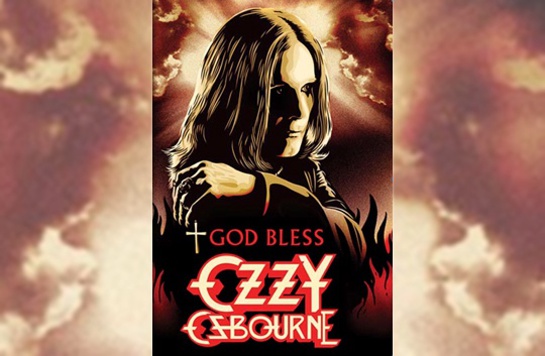 Exclusive ticket packages will be sold in an online auction from Aug. 15–19 at www.charitybuzz.com, with proceeds benefitting the MusiCares MAP Fund, which provides access to addiction recovery treatment and sober living resources for members of the music community.
God Bless Ozzy Osbourne relives the highs of the GRAMMY-winning artist's triumphs as well as his voyage to sobriety, which Ozzy Osbourne regards as his greatest accomplishment. The New York Times has described it as a movie "that unblinkingly chronicles the chaotic life and times of rock's most notorious cut-up, from his miserable working-class childhood…to his latter-day sobriety."
"This is the most honest portrait of my father," said Jack Osbourne of the documentary. "I set out to tell the truth — regardless of how raw it might be — and I think we accomplished just that."
God Bless Ozzy Osbourne is a look into the mind of legendary rock icon Ozzy Osbourne. Shot over the course of three years, audiences will experience the life story of the GRAMMY-winning artist, as seen through the eyes of his youngest child, Jack Osbourne, who worked alongside directors Mike Fleiss and Mike Piscitelli. In the documentary, Ozzy Osbourne recounts his troubled youth, his early career with Black Sabbath and the impact of fame and addictions on his first marriage. Viewers will also witness the second chapter of his life as a family man with wife Sharon Osbourne, during which his addictions grew to a frightening level, as well as hear Ozzy Osbourne and his children explain his attempts at staying clean, ultimately resulting in more than five years of sobriety. Music fans will also see live performances from around the world, including rare behind-the-scenes clips of Ozzy Osbourne on and off stage. Throughout God Bless Ozzy Osbourne, audiences are given an inside look into the life of a rock star, from the good times to the bad.
This special premiere comes just days before audiences across the country can see the documentary at more than 400 movie theaters nationwide via the NCM Fathom, Omniverse Vision and Eagle Rock Entertainment screenings on Aug. 24 and Aug. 29 at 7:30 p.m. Tickets and theater locations for God Bless Ozzy Osbourne are available at participating theater box offices and online at www.fathomevents.com.