Jennifer Aniston took time to visit a new breast cancer center near Washington this week, and listened to the emotional stories of those who have survived the disease.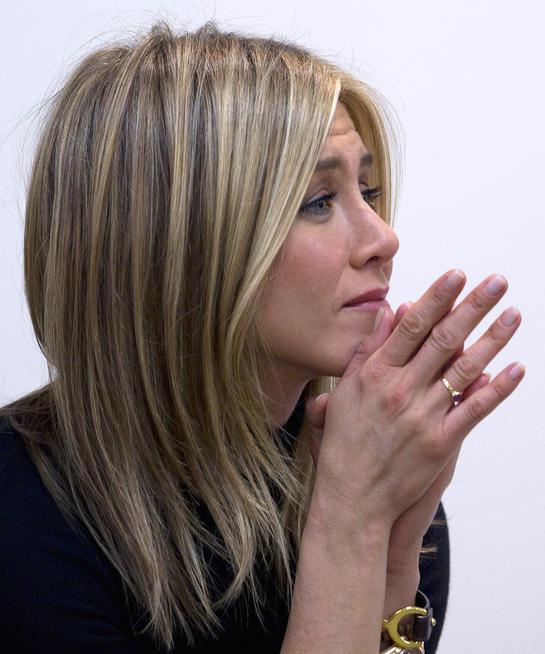 Jennifer Aniston, listens to a breast cancer survivor tell her story at the Inova Breast Care Center. (AP Photo/Carolyn Kaster).
Joined by Jill Biden, the star toured Inova Breast Care Center in Alexandria, Va., which is due to open next week.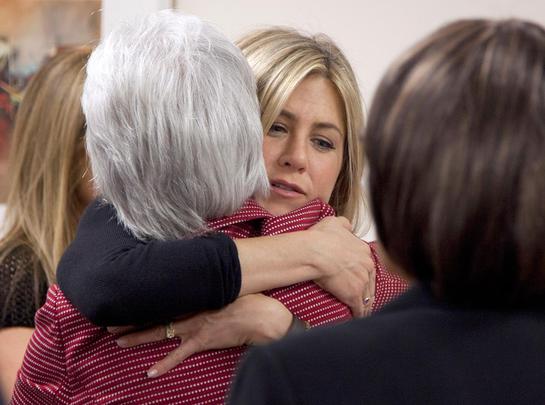 Jennifer Aniston hugs Health and Human Services Secretary Kathleen Sebelius during an event at the Inova Breast Care Center (AP Photo/Carolyn Kaster)
Aniston is also one of the celebrity directors of a new movie that follows those affected by breast cancer.
"Five" is five short films that explore the impact of breast cancer on five very different women. Through an interconnected story arc, the films use humor and drama to focus on these women and their lives at different stages of their diagnoses. The stories look at the effect the disease has on relationships and the way the women perceive themselves while searching for strength, comfort, medical breakthroughs and ultimately a cure.
Jennifer joins Alicia Keys and Demi Moore in the project, and the film airs on Lifetime on October 10.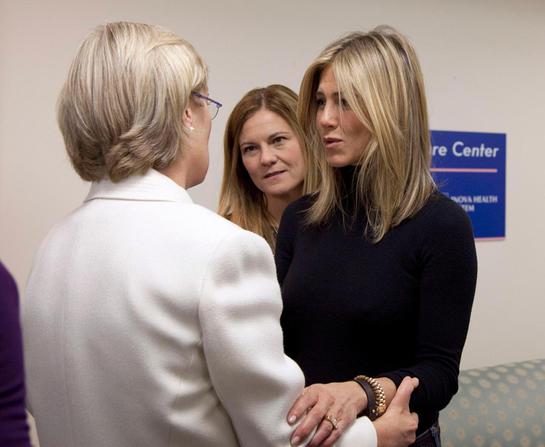 Producer Kristin Hahn, center, and actress and producer Jennifer Aniston, talk with a breast cancer survivor at the Inova Breast Care Center (AP Photo/Carolyn Kaster)