David Beckham, Jessica Biel, Lady Gaga and Taylor Swift will join creator, host and executive producer Nick Cannon in rolling out the orange carpet for this year's TeenNick HALO Awards.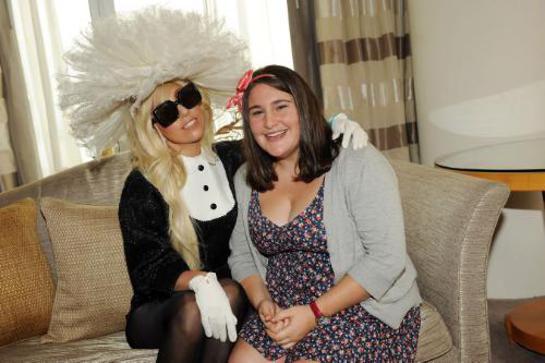 2011 HALO Honoree, Emily-Anne Rigal, with Lady Gaga. (PRNewsFoto/Nickelodeon, Scott Gries)
Recognizing real-life teens who are "Helping and Leading Others" (HALO), the third annual awards show features four extraordinary honorees and pairs them with a mega-celebrity who shares their commitment to service.
The 90-minute special will also feature musical performances, celebrity presenters and special surprises. For the first time ever, the TeenNick HALO Awards will be taped live at the Hollywood Palladium in Los Angeles, Calif., on Wednesday, Oct. 26, and premiere Sunday, Nov. 6, at 8:00 p.m. (ET/PT) on Nick at Nite. The special will encore Monday, Nov. 7, at 9:00 p.m. (ET) on TeenNick.
"This generation of young people gives so much and now it's time to give back to them," said Nick Cannon. "These are ordinary teens doing extraordinary things and I'm so proud to honor this year's TeenNick HALO Award honorees for their heroic efforts and unyielding commitment to helping others."
"We're proud to be presenting the third annual TeenNick HALO Awards where we celebrate amazing teens who have touched the lives of many people, including the superstars who share their philanthropic spirit," said Marjorie Cohn, President, Original Programming and Development, Nickelodeon. "Our hope is the show will continue to inspire others to make positive changes in their communities and further foster a culture of social activism."
Each TeenNick HALO Award honoree was surprised by a visit from Cannon, awarded a grant for their organization and given an once-in-a-lifetime opportunity to meet and connect with a celebrity who shares a similar passion for their cause. This year's honorees are:
James O'Dwyer, 19, Tuscaloosa, Ala. (paired with Taylor Swift) – James was a freshman at University of Alabama when the devastating EF4 tornado hit Tuscaloosa, leaving a six mile track of destruction across the region. He started Magnolia Disaster Relief, an aid program that targets small rural towns hit the hardest by tornadoes and helped the least by delivering food, water and clothing, along with toys, furniture and fridges so affected people can start rebuilding their lives. James's

HALO

match is Taylor Swift who, among her many philanthropic endeavors, raises money and awareness to benefit those affected by tornadoes and floods.
Emily-Anne Rigal, 17, Williamsburg, Va. (paired with Lady Gaga) – As a young overweight girl, Emily-Anne was bullied so harshly she was forced to switch schools. Recognizing just how upsetting her experience with bullying had been, she decided to create WeStopHate.org, a teen-run YouTube channel and website, which helps combat bullying by motivating teens to make videos sharing their own stories of triumph and give tips to others on how they too can prevail. Her

HALO

match, Lady Gaga, is one of Emily-Anne's greatest role models and campaigns for anti-bullying laws, encouraging teens to be themselves.
Shanoah Washington, 18, St. Petersburg, Fla. (paired with Jessica Biel) – Born in California, Shanoah's home life was plagued with gang violence until her grandmother moved her to Florida and enrolled her at the local Boys & Girls Club, providing her with guidance to reach her full potential. A slam poet and spoken word artist, Shanoah helps young people find their voice so they can heal. She also created Sista2Sista, a mentoring program which aims to motivate young girls through the development of self-esteem, honesty, self-discipline and positive thinking. Shanoah's

HALO

match is Jessica Biel who works with Girl Up, a United Nations Foundation campaign that rallies girls in the U.S. to help give girls in developing countries a better future.
Kyle Weiss, 18, Danville, Calif. (paired with David Beckham) – A huge soccer fan, Kyle's activism was sparked after speaking to Angolan fans at the 2006 World Cup and learning about the dire state of the country and lack of sports resources available to the youth of Africa. Kyle and his brother started FUNDaFIELD, an organization that fundraises to build soccer fields in developing countries in Africa. Nine soccer fields have been funded thus far and today there are 30 core members and over 200 members in FUNDaFIELD chapters across the U.S. Kyle's

HALO

match is David Beckham, a UNICEF Goodwill Ambassador, who campaigns and fundraises to establish education and recreational programs involving soccer for children around the world.
In support of the TeenNick HALO Awards, Nickelodeon is partnering with DonorsChoose.org on The HALO Effect, a two-week campaign that will translate a user's online activity into DonorsChoose.org donations.
Beginning Friday, Oct. 28, site visitors to TeenNick.com will be rewarded with points for engaging with HALO content. Users will be able to redeem their points for DonorsChoose.org gift codes, which they can use to help fund project requests from high-need public school classrooms across the country. The HALO Effect campaign will go beyond TeenNick.com with a gaming extension on AddictingGames.com and a GetGlue check-in sweepstakes during the on-air premiere of the special.
The offerings on the TeenNick HALO Awards dedicated site, www.teennick.com/halo, will include behind-the-scenes footage and exclusive interviews with the HALO honorees, along with quizzes, photo galleries and a new "Who Inspires You?" ranking game. Content will also be available via TeenNick's social media channels and will roll out throughout the month of October and in the week leading up to the event. Currently on the site, users can upload their own videos explaining how they HALO, with the best videos to appear on air and on TeenNick.com all month long. Users will also be able to nominate a friend for next year's TeenNick HALO Awards.