By Allison DiLiberto on
On Thursday, October 20, Look To The Stars' Allison DiLiberto and Scott Cable attended the Somaly Mam Foundation's annual gala at Manhattan's Espace (635 West 42nd Street), which honored The Body Shop Americas, Russell Simmons, Rush Communications, and U.S. Department of State Ambassador-at-Large for Global Women's Issues, Melanne Verveer.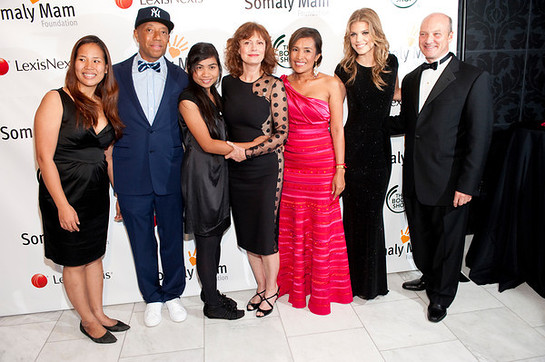 Russell Simmons, Susan Sarandon, Somaly Mam, Annalynne McCord, Phil Kowalczyk
The Somaly Mam Foundation – founded by Somaly Mam, a sexual slavery survivor – is a non-profit charity committed to ending modern day slavery in North America and around the world.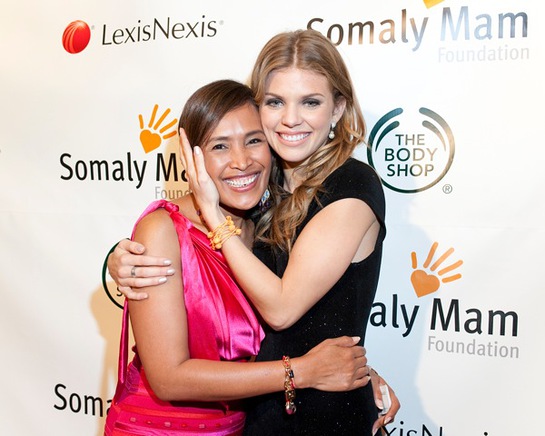 Somaly Mam and AnnaLynne McCord
This year's evening event raised $549,450 for the Foundation, which will go to support shelter, food, water, scholarships, technology needs, and opportunities for slavery survivors to rebuild their lives and start their own businesses.
Co-Chairs for the event included Lauren Bush, Deepak Chopra, Kerry Girvin, Bianca Mead, Andy and Laura Heery Prozes, Susan Sarandon, and Shelley Simmons.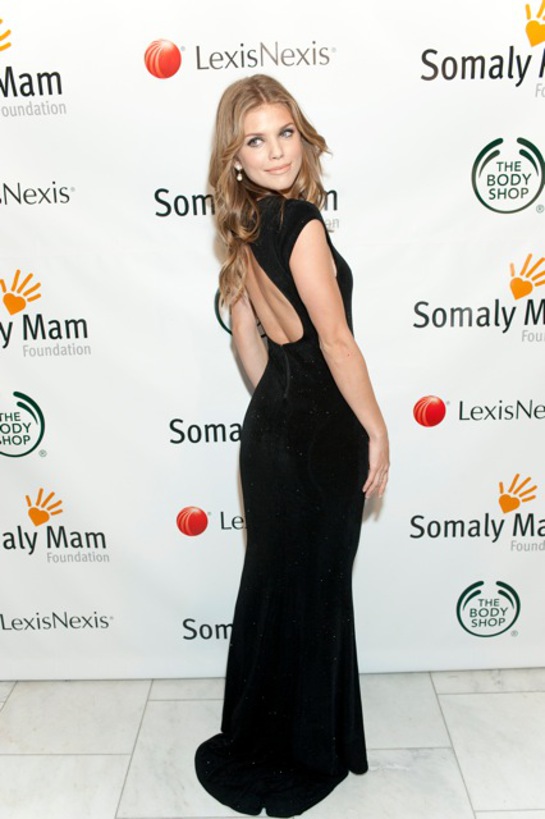 AnnaLynne McCord
The event began with opening remarks from the Foundation's Bill Livermore, who was Master of Ceremonies. Throughout the evening, guests listened to slavery survivor stories, the efforts of the Foundation as a whole, as well as the proactive efforts of the gala honorees who each received an individual award.
For their anti-trafficking efforts, Russell Simmons received the Voices of Change Award, Melanne Verveer received the Voices of Change Ambassador Award, and Phil Kowalczyk (President of The Body Shop) received the Voices of Change Corporate Award. The Body Shop has been involved with the Somaly Mam Foundation since 2009 when they kicked off their campaign Sex Trafficking of Children & Young People, which has now reached more than 50 countries.
Many famous faces came out to show their support for the cause. Notable guests included AnnaLynne McCord, Petra Nemcova, Padma Lakshmi, Ron Livingston, Somaly Mam, Susan Sarandon, Russell Simmons, Phil Kowalczk (President of The Body Shop), Her Excellency Hun Kimleng, Ambassador Luis C de Baca (Ambassador-at-Large to Monitor and Combat Trafficking in Persons at the State Department), and Melanne Verveer.
To find out more about the Somaly Mam Foundation and how you can get connected and involved, please go to www.somaly.org and www.projectfutures.somaly.org.
Photography: Christopher London, www.ManhattanSociety.com.