Broadcasting legend David Frost and rock royalty Sting were amongst the stars who joined Sting's wife, and recent Big Issue guest editor, Trudie Styler to launch The Bag Issue initiative in central London this week.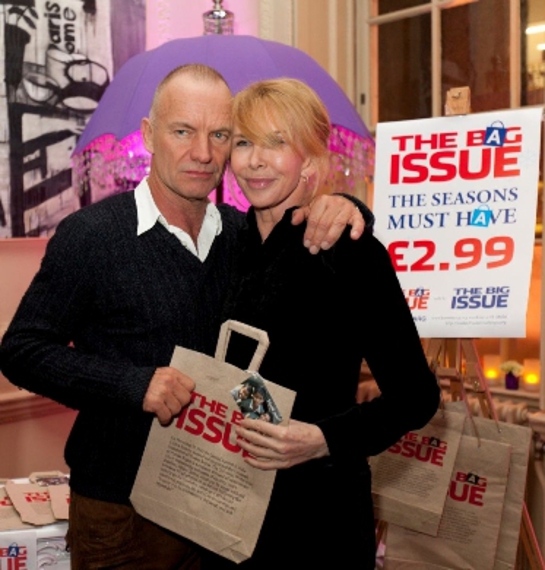 The Big Issue is one of the UK's leading social businesses, which twenty years since its inception continues to offer homeless and vulnerably housed people the opportunity to earn a legitimate income.
Over 200 guests, who also included Alan Yentob, actor Russell Tovey and comedian Eddie Izzard, saw Styler and Big Issue founder John Bird unveil the initiative at the House of St Barnabas in Soho.
The Bag Issue – a bag made, incredibly, from camel and elephant dung and created by children from the Karm Marg orphanage in India – is a joint partnership with the Big Issue.
The Big Issue Company publishes a weekly entertainment and current affairs magazine, which Big Issue sellers (usually the homeless or unemployed) buy for £1 and sell for £2, thereby earning £1 per copy
The new bags are made and sold by children from the orphanage on the outskirts of Delhi, which is sponsored Mukti, a Reading-based charity Ms Styler has been a patron of for 11 years.
"There's a synergy between the Bag Issue and the Big Issue. Both Big Issue vendors and the children at Karm Marg are working their way from the streets," Styler told The Big Issue. "They want to make their own destiny and hold their head up. This gives them self esteem, helps foster communities and enables them to support their own lives."
The bags, which are 100 per cent recyclable, feature the Big Issue logo alongside the Declaration of Human Rights. 
"I'm incredibly proud of Trudie," Sting added.
Every Bag Issue bought helps support Karm Marg which was set up in 1997 to give children a home and an education. There are an estimated 300,000 children on Delhi's streets and many at Karm Marg have run away from slave-like conditions. Almost all – boys and girls – have suffered sexual abuse or rape, but they now raise 60 per cent of the funds needed to support their own living through micro enterprises like the Bag Issue.
During the event, which also showcased some of London's finest traditional Indian musicians, Ms Styler showed a video of the children at Karm Marg and spoke of how the Bag Issue will continue to empower them.
Next year, the children will begin making waterproof bags made with banana fibres, which will also be sold through the Big Issue.
John Bird said he had always wanted to create a bag which was also a magazine: "Poverty is a human rights abuse and Trudie has done wonderful work in highlighting this. I urge everyone to get behind the Bag Issue."
Find out more here.
Source: The Big Issue