The United States Postal Service has unveiled a commemorative Forever Stamp honoring legendary entertainer Danny Thomas, the founder of the renowned St. Jude Children's Research Hospital. The unveiling took place at a star-studded gala in Los Angeles this past weekend to celebrate Thomas' 100th birthday and the St. Jude's 50th anniversary.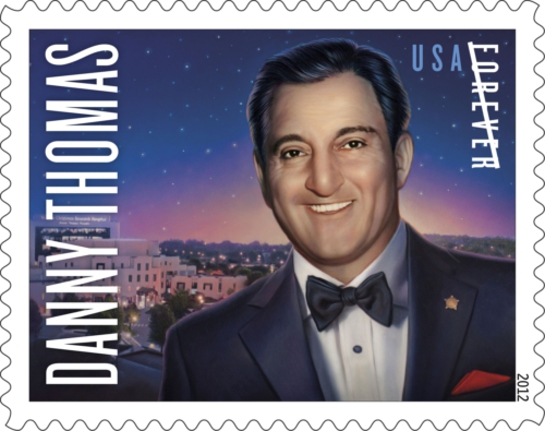 "The Danny Thomas stamp, which will be officially dedicated at St. Jude Children's Research Hospital in Memphis, TN, and go on sale on Feb. 16, will become an ambassador for philanthropy, traveling on letters and packages to households and businesses throughout America and the world," said Ed Ruiz, USPS Los Angeles district manager. "It also will serve as a lasting tribute to one of America's most beloved and enduring entertainers who worked tirelessly to help the most helpless of all — children with diseases."
Ruiz was joined to unveil the stamp by Tony Thomas, son of Danny Thomas; Terre Thomas, daughter of Danny Thomas; Phil Donahue, talk-show host and husband of Marlo Thomas, Thomas' daughter; Tony Bennett, singer and featured performer at the gala; and Ray Romano, a good friend of the Thomas family and an ardent supporter of St. Jude. Thomas was a star of radio, film and television. From 1953 through 1964, he received five Emmy nominations for his starring role in Make Room for Daddy, winning in 1953 and 1954 for Best Actor Starring in a Regular Series. The show also received an Emmy for Best New Situation Comedy in 1953 and Best Situation Comedy in 1954.
In addition to Tony Bennett and Ray Romano, Hollywood turned out in force to support the nation's leading pediatric research and treatment hospital devoted solely to children with cancer and other deadly diseases, including Jason Bateman, Jon Hamm, Mila Kunis, Julie Bowen, Jesse Tyler Ferguson, Daisy Fuentes and Vanessa Williams, among others.
"My family is honored that our father will be immortalized in a Forever Stamp not only because of his success in the entertainment industry, but also for his efforts to save the lives of children by founding St. Jude Children's Research Hospital – a place unlike any other in the world," said Marlo Thomas, national outreach director, St. Jude Children's Research Hospital. "Dad always considered St. Jude – where patients are saved through the latest research and ground breaking treatments without any regard to pay – to be the crowning achievement of his life and career. This stamp is an incredible testament to him on his 100th birthday and St. Jude's 50th anniversary."
Starting today, customers may pre-order the Danny Thomas Forever Stamp online at usps.com and by phone at 800-782-6724.
In 1962, Thomas founded St. Jude with a mission to save the lives of children everywhere. He fervently believed that "no child should die in the dawn of life." Thomas wanted to create a hopeful place that was accepting of all children whether or not the family could afford treatment.
Today, St. Jude is the only pediatric cancer research hospital where no family is ever turned away due to an inability to pay and no family ever pays St. Jude for anything. For 50 years, St. Jude has advanced treatment of such deadly childhood diseases as cancer, saving the lives of children across America. Research at St. Jude has changed how the world treats leukemia, brain tumors, and sickle cell disease, helping push survival rates for childhood cancers from less than 20 percent in 1962 to almost 80 percent today.
Featuring a new portrait of Thomas by artist Tim O'Brien and depicting the hospital he founded in the background, the Danny Thomas Forever Stamp was designed by Greg Breeding.
Customers may view the Danny Thomas Forever Stamp, as well as many of this year's other stamps, on Facebook at facebook.com/USPSStamps, through Twitter @USPSstamps or on the website Beyond the Perf at beyondtheperf.com/2012-preview. Beyond the Perf is the Postal Service's online site for background on upcoming stamp subjects, first-day-of-issue events and other philatelic news.