More than 70 powerful women from around the US and the world – including actor Kristin Davis (Sex and the City), former Haitian Prime Minister Michelle Pierre-Louis, Top Chef Masters competitor Mary Sue Milliken and many more – joined international relief and development organization Oxfam America in Washington, DC for a Sisters on the Planet Summit to mark International Women's Day this week.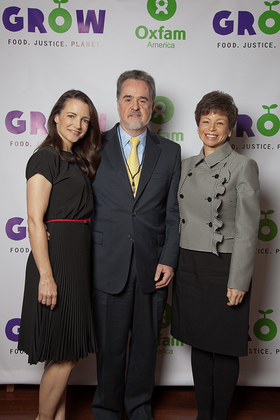 Oxfam's Sisters on the Planet will deliver a letter to Members of Congress signed by more than 80 influential women, advocating for policies that support women farmers around the world, including reform to US food aid programs in the Farm Bill.
"Most people living below the poverty line are women, who face daily discrimination, hunger and inequality," said Oxfam Ambassador Kristin Davis, who was awarded Oxfam America's Women's Leadership Award for her efforts to raise awareness and fight hunger in the developing world. "In my travels with Oxfam it has become clear to me that the best way to forge solutions and tackle hunger is to invest in women farmers who are the key agents of change in their communities," said Davis.
Valerie Jarrett, Senior Advisor to President Barack Obama and Chair of the White House Council on Women and Girls, gave keynote remarks to the gathering and spoke about the importance of poverty fighting programs like President Obama's Feed the Future initiative. Feed the Future gives women farmers the tools and opportunity to sustainably feed their own communities and escape poverty.
On International Women's Day, the Sisters on the Planet will lobby Members of Congress to adopt reforms to the US food aid program in the Farm Bill that will end regulations, which prevent food aid from being purchased from women farmers in developing countries. This red tape costs lives and wastes hundreds of millions of dollars a year. They will also urge their leaders to support President Obama's budget request for poverty fighting programs such as Feed the Future.
"In a time when we have enough food for everyone, it is completely unacceptable that approximately half a billion women still go hungry and lack access to basic resources like clean water, or markets where they can sell their crops at a fair price," said Raymond C. Offenheiser, President of Oxfam America. "Proven solutions are at our fingertips, it's time for our elected officials to put them to work."
Women farmers usually farm on small plots, are sometimes legally barred from owning land and rarely control the land they work. Many women are excluded from community decisions, only receive a fraction of the farming assistance offered to their male counterparts and often face violence in their daily lives. Investing in women farmers has been shown to be one of the most effective tools to solve these problems and fight poverty.
"Women farmers and pastoralists are forces for change around the world, helping to feed, educate and nurture their communities in the face of grave obstacles," said Anna Oloshuro Okaro a farmer from Morogoro, Tanzania who also received Oxfam America's Women's Leadership Award. "If we raise the voices of women and ensure they have the resources and rights that they are due, anything is possible."