By Misty Schwartz on
Nine-year-old 2010 Top Child Model of the Year Lela Brown opens up about her charity work with the American Cancer Society and Bridge DA Gap to Misty Schwartz in this interview.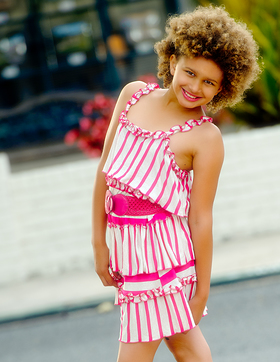 Why did you choose to support the charities you work with?
American Cancer Society because I lost my Grandma to breast cancer and my Aunt to cancer. Bridge DA Gap because I want to help the youth.
How long have you supported them?
American Cancer Society I have supported since I was born. My Grandmother passed away when I was 3 months old and she was very involved with the Society so I followed her footsteps.
Bridge Da Gap for about a year I have supported and plan on really being involved with the program. The program is designed by my music producer Kevin "Khao" Cates. The producer who brought you "Watch What You Say" with T.I. ft. Jay-Z, "Double Up" with R. Kelly and "Why you Wanna" with T.I.
And how important do you think it is for celebrities to get involved in charity?
We make a living by what we get, but we make a life by what we give. Everyone should get involved in a charity!
What plans do you have to make an impact on society this year?
My goal is to set up my own non-profit supporting the families who have loved ones with cancer.
The Bridge DA Gap Movement is a youth development program that uses an innovative approach to reach students and teach life skills applicable in today's socially challenged environment. The program uses educational tools that are designed to: 1) examine the social issues that our youth face today; 2) find ways to effectively handle the resolution of modern day problems; and 3) deliver practical tools that will help young people to build a solid foundation for reaching their desired goals.
Find out more about Lela at her official website.