A number of celebrities are promoting alternative Mother's Day gifts to benefit good causes.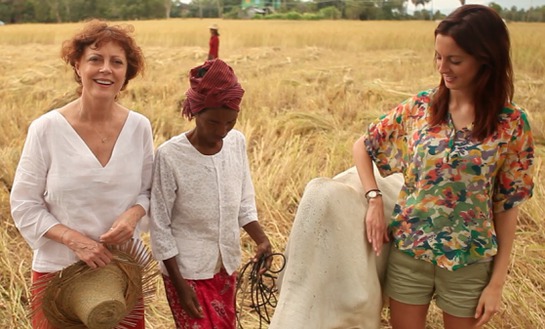 Susan Sarandon, Mia Farrow, Ashley Judd, Eva Amurri Martino, Alton Brown and others are pointing people to Heifer International for gifts of livestock that give poor and hungry families a path to self-reliance. The milk from a goat, for instance, will transform a family's life, not just for the nutrition it provides, but the income it will also bring. Gift different, honor your mother with a "kid" from her kid… Heifer is one of the most credible organizations successfully ending hunger, if you don't know about Heifer, you've got to check this out, read more about what they are offering for Mother's Day.
How exactly are these celebrities helping? Susan and her daughter Eva traveled to Cambodia in December to see some of Heifer's work first hand and shoot promotional videos, going live on May 7th at heifer.org, Mia plans to publish a Huffington Post blog on May 8th about what she really wants for Mother's Day (goats!), and Alton and Ashley will be leveraging their Twitter fans.
Meanwhile, the Somaly Mam Foundation has its own equally compelling Mother's Day campaign supported so far by Susan Sarandon, Eva Amurri Martino, Lauren Bush, AnnaLynne McCord, Angel McCord, Shay Mitchell, Serinda Swan – and more to come.
While in Cambodia last December, Susan and Eva also saw the work of their friend Somaly Mam, a former sex slave who now rescues and rehabilitates women and children from slavery in brothels. While there, Cause Effect Agency taped a series of short conversations about motherhood with Susan, Eva, Somaly and 3 other survivors of sex slavery. Why motherhood? During the course of the trip, Susan and Eva were surprised to find that despite the violence perpetrated on the women by strangers, the thing that had hurt the most was the betrayal of their mothers. It's a moving and fascinating discussion. You can review a one-minute video, part 1 of the 5-part series on Somaly's home page.
Somaly Mam is selling beautiful Mother's Day packages at its online Empowerment Store (also accessible from somaly.org) that include elegant necklaces and personalized cards hand made by survivors of slavery.