The Professional Beauty Association (PBA) was proud to recently honor Giuliana Rancic with the PBA Beautiful Humanitarian Award for her work in sharing her own experience and educating others about breast cancer, as well as championing many other charitable causes.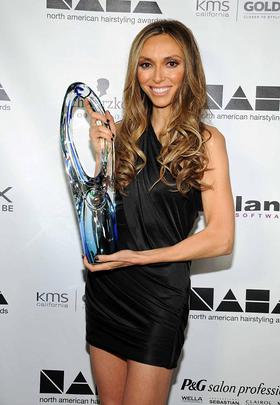 Rancic was given the award at the 2012 North American Hairstyling Awards (NAHA) Awards Ceremony on July 22, 2012 at the Mandalay Bay Resort in Las Vegas. As the professional beauty industry's top honor, a NAHA is the pinnacle award to win, and the NAHA Awards Ceremony is the event of the year for beauty professionals around the world to attend. Rancic also served as host of the event.
"It was an honor to host the 2012 North American Hairstyling Awards and I'm truly touched to be the recipient of the Professional Beauty Association's Beautiful Humanitarian Award. Beauty professionals are at the heart of making people look and feel their best, and I was so excited to be a part of this amazing event."
As a renowned entertainment journalist, Giuliana is known for her work as co-anchor of the E! Networks number one show E! News, and as a beauty and fashion expert as co-host of E!'s hugely popular Fashion Police. Giuliana's energy, personality, poise and all-around beauty made her an ideal choice for both NAHA honors.
A special part of each NAHA celebration is the awarding of the PBA Beautiful Humanitarian Award. Giuliana and her husband, noted entrepreneur and talk-show host Bill Rancic, are supporters of such charitable causes as Bright Pink, Operation Smile, Dress for Success, Mercy Home for Boys & Girls in Chicago, and the Children's Miracle Network Hospitals. Furthermore, Giuliana embodies "the American dream." Born in Naples, Italy, in an impoverished neighborhood, Giuliana's parents could not afford a tutor, so she learned English by watching TV. With hard work and persistence, she attended the University of Maryland where she received a B.A. in Journalism followed by a master's degree in Journalism from the American University in Washington D.C. Giuliana is also on the board of directors for NIAF (National Italian American Foundation) and a member of AWRT (American Women in Radio and Television).
In 2011, Giuliana launched FabFitFun.com, a daily newsletter focused on beauty, health and wellness that reaches tens of thousands of readers. She is also a weekly fashion contributor for OK! Magazine where she offers commentary on some of the best looks of the week. She is the executive producer of the hit reality show Giuliana & Bill on the Style Network.