Human rights organization WITNESS last week celebrated 20 years of collaborative activism with musicians, celebrities and human rights supporters at its 8th Annual Focus for Change Benefit held at the Roseland Ballroom.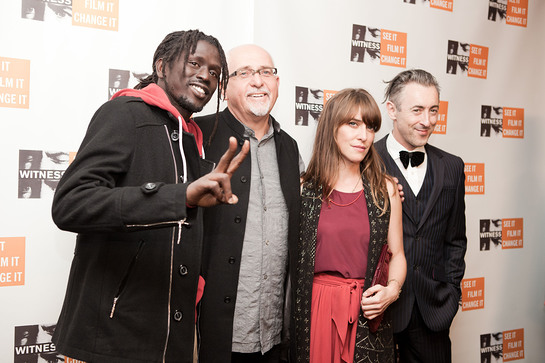 Hosted by award winning actor and long-time supporter of LGBT rights Alan Cumming, the evening kicked off with a journey – taking guests back in time 20 years to look at how WITNESS and its partners have used video in human rights campaigns over the years.
"I am proud to support WITNESS," said Cumming. "Having worked in film for over 25 years, it's inspiring to see examples of how video has been used successfully in the struggle to protect human rights."
Music legend and WITNESS co-founder Peter Gabriel, in between stops on his Back to Front tour, performed.
"WITNESS became a vision for me after the Human Rights Now! Tour back in 1988. I traveled with Amnesty International and met brave human rights defenders who suffered grave abuses. I documented their testimonies with my own handheld video camera in the hopes that their stories would not be buried or forgotten," said Peter Gabriel . "20 years later, WITNESS is now as important as ever, helping people use video to tell their stories and giving them access to strategies and tools to create meaningful change."
Other musicians who performed to show support for the WITNESS-led Video for Change era were Canadian singer-songwriter and Grammy nominee Feist and South Sudanese musician and former war child turned peace soldier, Emmanuel Jal.
WITNESS partners, who have worked to put a stop to slave labor in Brazil , to end rampant abuse in the U.S. juvenile justice system, and to end recruitment of child soldiers in the Democratic Republic of the Congo , shared their stories and explained how video changed their lives and the situations in their respective communities.
Since 1992, WITNESS has trained more than 4,500 human rights defenders and partnered with over 300 groups in 86 countries to produce campaign videos that have reached more than 260 million people worldwide.
"Tonight we celebrate how much WITNESS has accomplished over the last 20 years, but also look forward to how much more we can continue to accomplish," said Yvette Alberdingk Thijm, Executive Director of WITNESS. "We are at a critical point in the history of human rights, where anyone with a camera can be not only a witness but also a catalyst for change. In this 'cameras everywhere' world, WITNESS is committed to helping grow the ranks of human rights defenders and citizen activists."
To top off the festive evening, DJ Cassidy, a global phenomenon in the DJ world, turned the event into an iconic NYC dance party.
Find out more here.
Source: PR Newswire