Thousands of wrapped toys were handed out to kids in a huge Christmas display Monday at the Los Angeles Mission's annual Christmas Eve event.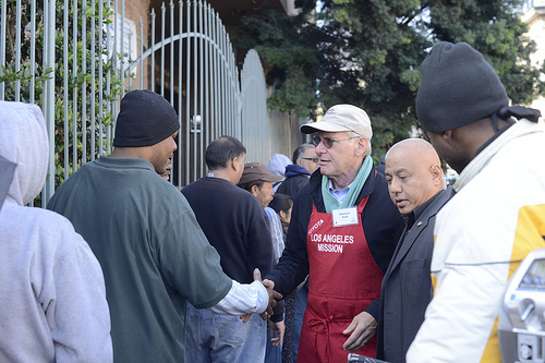 There were more than 4,000 meals served – with Chef Ben Ford creating a gourmet meal for the Skid Row homeless.
Among the stars who took part were Harrison Ford, Harry Hamlin, Bella Thorne, Booboo Stewart, Kate Linder, Melissa Gilbert, and many more.
Toyota was the primary sponsor for the event, with the Sharing the Spirit Holiday Party presented by the Festival of Children Foundation.
"We have made a very big effort to step up the quality of the Christmas meal," said Herb Smith, President of the Los Angeles Mission. "That's why we are so pleased to have Ben Ford, of Ford's Filling Station join us again to create the signature dishes for the meal. That, along with the magnificent Festival of Children Foundation Share the Spirit Holiday Party tent makes this one of the most special events we have."
Celebrity Chef Ben Ford worked with the Los Angeles Mission Chef Chris Cormier and the kitchen staff to envision and prepare the meal. There was Lemon-Rosemary Roasted Chicken, Cheezy Grits, Brown Butter Carrots, Green Beans with Griddled Onions, a special Winter Fruit Chutney created by Chef Ford, and Apricot compound butter for the dinner rolls. The meal was rounded out with cake for dessert.
"Changing a life can start with a meal made with love" said Chef Ford. "This Christmas I will be a part of nourishing our community through food and hopefully change a couple of lives along the way."
A generous contribution from Toyota and nearly 200 volunteers helped make the event possible. Thousands of toys were donated by JAKKS Pacific, Imperial Toys, Jazwares, and hundreds from other donors. The Sharing the Spirit Holiday Party featured Santa, decorations, music and crafts for the children. Toys were wrapped so children had the choice of opening them immediately or waiting until Christmas morning. Hundreds of volunteer hours were spent sorting, wrapping and marking the gifts so they could be distributed in an age and gender appropriate manner.
"This is Toyota's third year supporting the Los Angeles Mission's holiday outreach, and we continue to be touched by the Mission's dedication and service to families in need," said Michael Rouse, vice president of philanthropy, community affairs and diversity & inclusion for Toyota Motor Sales, U.S.A., Inc. "Nearly 200 Toyota associates, friends and family volunteer their time to work this event or who have contributed by donating 100 hygiene kits to the residents of the Mission will come away from this experience with a greater understanding of our broader community and the support needed."
"The Los Angeles Mission wouldn't exist without the loving financial support of the community," said President Smith. "Our community volunteers, our donors, the businesses who support us make our work possible. Toyota and the Festival of Children Foundation have worked closely with us for months to make the event happen. As we look toward 2013 we are concerned about how the unsettled economy will impact the Mission. We have seen a significant downturn in donations – we are concerned about financial shortfalls – all at a time when the number of men, women and families coming for help is increasing."
More than 10,000 toys were donated for distribution at the event.
"JAKKS Pacific is proud to support the Los Angeles Mission, both year-round and again this holiday season," said Anne-Marie Feliciano, Vice President of Corporate Communications & Philanthropy, JAKKS Pacific, Inc. "They provide crucial, invaluable services to underserved families and individuals in our community and make a remarkable difference in the lives of disadvantaged young people. We are very proud that together, JAKKS and the Los Angeles Mission, can help make the holidays brighter for so many deserving children and families."
Festival of Children Foundation staff and volunteers arrived early Friday morning to set up the 2,000 square foot Sharing the Spirit Holiday Party tent on Skid Row. There were 30 decorated Christmas trees, giant nutcrackers, Santa, crafts, and each child received a bag of toys. More than 50 volunteers made a very special place for the children of Skid Row with decorations and loads of fun.
"Festival of Children Foundation supports children's charities nationwide, but today, we're focusing on bringing Christmas to the children served by the Los Angeles Mission. We're honored to have the opportunity to share our blessings with them. Christmas means a spirit of love, and that's what we want every child here today to feel… loved," said Sandy Segerstrom Daniels, Founder and Executive Director of Festival of Children Foundation.
Christmas Eve morning started early for the staff and volunteers and the Mission. There were last minute gift donations to wrap, and the big dinner to prepare. And the volunteers in the kitchen also served breakfast to overnight guests at the Mission. And at about 7:00 AM volunteers also handed out hot breakfast sandwiches and cider to the families waiting in line for the event that would begin later in the morning.
Chef Ford, Chef Chris Cormier and the Mission staff marinated and roasted 3,000 pounds of chicken, sliced, seasoned and cooked 600 pounds of carrots, prepared 600 pounds of green beans and griddled lots of onions, mixed and baked 140 gallons of grits for the Cheezy Grits and chopped and mixed 115 gallons of Winter Chutney. (Recipes are attached). The preparation work went on for several days, with the chef staff in a cooking frenzy all Monday morning to be ready for the 11:00 AM serving time.
A thousand blankets were handed out by Kimberly Vodang, Ms. America International, to those who attended. There was also underwear distributed which was donated by Briefly Cares, a philanthropic outreach by Briefly Lightweight company. Dining utensils and napkins were provided by Landsberg/Amcor. Hygiene kits were put together by Mission volunteers throughout the month of December, and were handed out Monday as well to participants.
Housed in temporary facilities, shelters and low-income housing in the Skid Row area, this will be the only Christmas celebration for many of the guests. As they waited to be seated and served, the guests enjoyed holiday music from a number of local musical groups.
The Los Angeles Mission has been providing a Christmas meal and toy distribution at this location since the Mission building was dedicated 20 years ago. The Mission has been operating continuously since 1936, when it was created as a soup kitchen to serve those displaced during the great depression.