Teri Hatcher will hold her annual Celebrity Yard Sale this weekend, with proceeds benefiting the Juvenile Arthritis Association.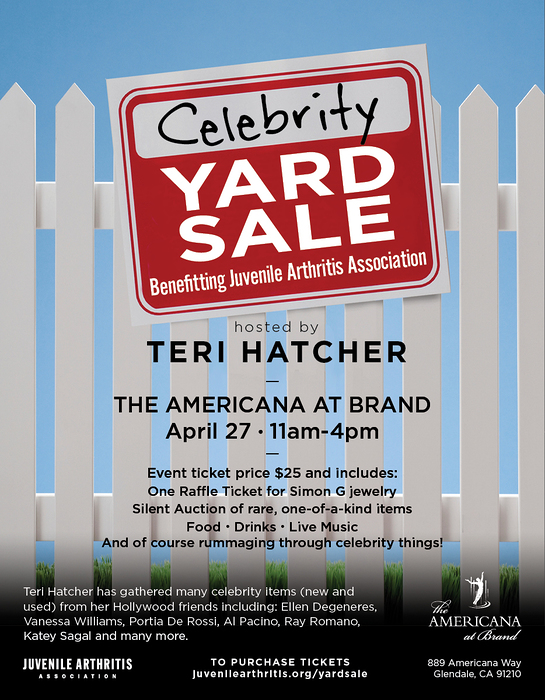 Teri Hatcher has gathered many new and used celebrity items from her Hollywood friends, including Ellen DeGeneres, Vanessa Williams, Portia de Rossi, Al Pacino, Ray Romano, Jimmy Kimmel, Katey Sagal and many more. Come rummage through these celebrity goods and enjoy a festive atmosphere on The Green of the Americana at Brand in Glendale.
The entrance fee of $25 includes food, drinks, kids' activities, and the opportunity shop while listening to live music. Musical guests include Carly Ritter, American Bloomers, Pete, and D. Henry Fenton. A silent auction will feature one-of-a-kind items, such as never before seen photos of Al Pacino from The Godfather, Signed Curb Your Enthusiasm DVD's, Signed Chevy Chase drawings, jewelry by Simon G. and much more.
For tickets and more info, click here.
Juvenile Arthritis Association
Juvenile arthritis and other pediatric rheumatic diseases are serious chronic conditions that affect 300,000 children in the U.S. — more kids than juvenile diabetes, cystic fibrosis and muscular dystrophy combined — yet they receive about 1% of the private funding going to almost any other major childhood disease, and there are fewer than 200 pediatric rheumatologists nationwide to treat them. Juvenile Arthritis Association has an ambitious agenda to bring Community, Awareness, Research and Empowerment (CARE) to children and young adults battling these conditions and the families fighting alongside them.