On Monday 8th July, The Roundhouse, north London, was transformed into a tennis themed gala dinner to mark a spectacular fundraising evening in aid of the Novak Djokovic Foundation.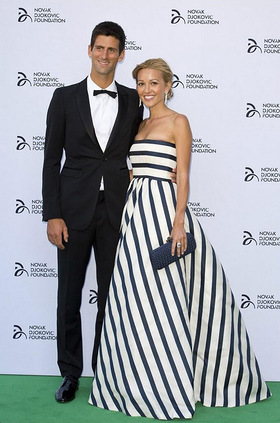 The inaugural London gala ball raised over £1,200,000 to support disadvantaged children in Serbia and was attended by Event Chairs, Novak Djokovic, Kate Hudson, Naomi Campbell, Boris Becker, Goldie Hawn, and Sarah Ferguson, The Duchess of York – who was recently announced as the charity's Global Ambassador. Milutin Gatsby, the charity's Global Fundraising Chairman also graced the green and white carpet at the star-studded event.
Among the 300 guests were Sir Richard Branson, Gerard Butler, Ronnie Wood, Erin O'Connor, Jeremy Piven, Branislav Ivanovic, Jonathan Ross, Ladies Wimbledon Champion Marion Bartoli, Tim Henman, Matt Bellamy, and Princesses Eugenie and Beatrice.
Demonstrating the Foundation's worldwide support from Novak's circle of friends involved in fashion, sport, music, entertainment and business, auction prizes included a money-can't-buy yacht getaway with Goldie Hawn and Kate Hudson, a signed guitar by Ronnie Wood and a seven day holiday at Sir Richard Branson's private island, Necker, situated in the British Virgin Islands.
In a touching speech before the live auction bidding, Novak thanked his girlfriend Jelena for her love and support, and for everything she's done for the Foundation.
"Love is the greatest driving force in my life, it can create miracles," the world no.1 said.
UNICEF Ambassador, Djokovic, founded the Novak Djokovic Foundation in 2007 with a mission to support vulnerable and disadvantaged children from the lack of nutrition, education, illness or loss of family- especially in his native Serbia.
Commenting on the event, the six-time Grand Slam Champion said: "I am delighted to be joined this evening by friends and family to support a cause which is so close to my heart. The Foundation works alongside young children in Serbia to provide support, encouragement and resources so they can fulfill and nurture their dreams. With the help of such generous people, our vision is to expand our work to the UK and America and transform the lives of more children around the world."
The Foundation was also proud to announce a new collaboration to bring MindUP, the signature initiative of The Hawn Foundation to children in Serbia. Commenting on the partnership, Kate Hudson said; "Having seen the extent of how MindUP has changed the lives of so many children I am a proud member of the board and a hugely admiring daughter. I was thrilled to be at this very important event celebrating the new partnership between The Hawn Foundation and The Djokovic Foundation who together are launching MindUP for the kids in Serbia."
Based on positive psychology, educating the heart and mind, MindUP builds resilience and brings overall well-being to children, giving them tools to reduce stress and anxiety, regulate their emotions, find optimism and nurture happiness.
Source: novakdjokovicfoundation.org