Prince Harry last week visited a photographic exhibition in London documenting the work of his Lesotho-based children's charity Sentebale.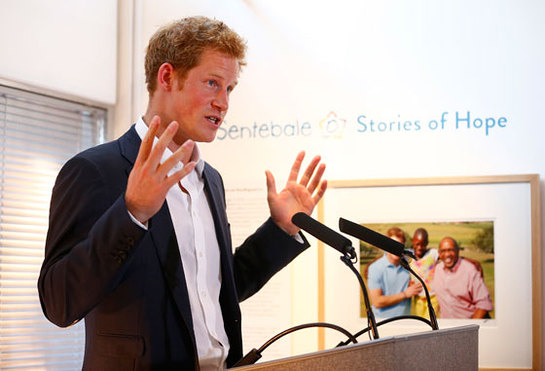 The Prince had spent around half an hour viewing the exhibition Sentebale – Stories of Hope at the Getty Images Gallery in central London.
Some of the pictures were taken in February during The Prince's trip to the southern African kingdom of Lesotho, where his charity supports a range of projects that help disadvantaged children and young people.
Sentebale, which means Forget-Me-Not in Sesotho, the language of Lesotho, was founded in 2006 by Prince Harry and Prince Seeiso of Lesotho. It has improved the lives of thousands of children by providing healthcare and education to those most in need, including children orphaned by the country's HIV/Aids epidemic, but has ambitions to help many more.
Among the guests was David Furnish, whose partner Sir Elton John has helped raise money for a new Sentebale children's centre through the Elton John AIDS Foundation's White Tie and Tiara ball.
Mr Furnish said: "I congratulated him on being an uncle and he smiled proudly. I'm an uncle many times over and I love it."
Mr Furnish said of Sentebale: "At our ball we gave people the chance to purchase cabins at the new Mamohato Children's Centre, and we sold 10 cabins at £35,000 each. It was a huge success because people can see how it makes a difference to children's lives."
Other guests included the BBC newsreader Kate Silverton, who has seen the poverty of Lesotho first hand when she filmed a report there.
The Prince, wearing a blue suit and a white open-necked shirt, told an audience of 140 invited guests that he would not make a long speech because it was "absolutely roasting" in the small gallery off Oxford Street.
He said of the charity's work: "In the absence of parents for the vast majority of Lesotho children we at Sentebale we hope are filling the gap as best we can.
"The stigma that surrounds HIV and Aids must be explained and, I hope, understood."
Source: PrinceHenryOfWales.org