Led by Chef Mario Batali and master meat purveyor, Pat LaFrieda, food and drink businesses around the world – from London to Hong Kong, New York to Dubai – will serve-up delicious (RED) culinary experiences to raise money for the Global Fund to fight AIDS, and harness the growing interest in all things culinary to raise awareness that the war against AIDS is winnable.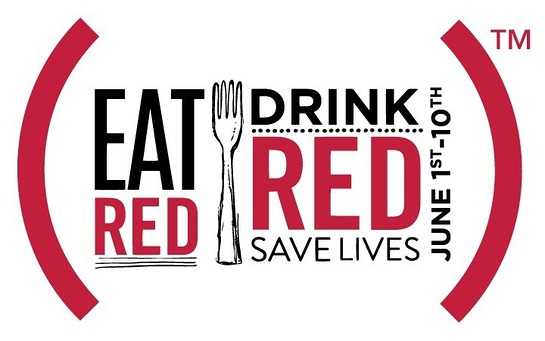 "Anyone who has ever worked in a kitchen knows that sum of our efforts far exceeds what we can do individually. We can only win the AIDS fight by coordinating our actions, and that's what EAT (RED). DRINK (RED). SAVE LIVES is all about. From June 1-June 10, I'm turning all of my restaurants (RED), and I'm thrilled to see my fellow culinarians doing the same so we can raise awareness and money to help get closer to the beginning of the end of AIDS," said Mario Batali.
From food truck favorites to Michelin-starred restaurants, there are (RED) food and drink experiences for everyone, including:
• (RED)-inspired menu items and cocktails at Michelin-starred restaurants including Mario Batali's Babbo and Casa Mono, and Danny Meyer's 'The Modern';
• Delicious snacks – from Asian fusion and Mexican to waffles and fresh juices – courtesy of the National Food Trucks Association's army of every imaginable cuisine on wheels across the US;
• Queen of the Night – described as "New York's hottest nightlife event!" by NY Magazine – will offer a special pomegranate-infused cocktail, the "Be Inspi(RED)", for ten days in June;
• London-based 'Battersea Pie Station' will turn its classic British 'pie & mash' (RED), while other UK outlets ranging from sushi to pizza will offer special (RED) menus;
• Buddy Valastro's iconic 'Cake Boss Cafe' in New York's Times Square will offer special (RED) cupcakes during the month of June;
• Dubai and Monaco's iconic 'Sass Cafe' locations will offer an extended (RED) menu
• Wylie Dufresne's team of world-class mixologists will shake and stir inspiring (RED) cocktails at Alder;
• Brooklyn's foodie destination, 'Smorgasburg', will turn (RED) on June 7th & 8th, serving (BELVEDERE)RED cocktails and special (RED) food items created by its artisanal vendors;
• BR Guest Hospitality will participate by featuring a (BELVEDERE)RED cocktail at ten of their restaurant locations nationwide;
• Omaze.com has teamed-up with (RED) and Mario Batali to offer one lucky winner a prize package which includes a private cooking class and dinner with Mario, plus a behind-the-scenes tour of the Eataly Italian Marketplace.
Pat LaFrieda is offering US-based participants a 50% discount on three cuts of meat, while (RED) partner, (BELVEDERE)RED, has created a range of cocktail recipes crafted by Global Head of Mixology, Claire Smith, exclusively for participating bars and restaurants. Peroni is the official beer of EAT (RED). DRINK (RED). SAVE LIVES, and will be creating (RED) promotions at a number of participating restaurants and bars.
Starbucks is proud to support the campaign with a new way to give the gift of (RED) this year. For every Starbucks eGift purchased between June 2-6, Starbucks will contribute a matching dollar amount up to $200,000 to the Global Fund. To participate, customers in the U.S. can select any one of Starbucks eGift designs on Starbucks.com or the Starbucks Mobile App, which will include two new limited time (STARBUCKS)RED designs. Since becoming a (RED) partner in 2008, Starbucks has contributed more than $12 million to the Global Fund.
Deborah Dugan, CEO, (RED), said; "(RED) is about giving people inspiring ways to help fight AIDS, and we tap into the things people love. With food and drink at the forefront of today's cultural zeitgeist, it's incredible to see the culinary community partner with (RED) to help get closer to the goal of an AIDS Free Generation."
A new PSA featuring top food celebrities will raise awareness around life-saving HIV/AIDS medication which costs as little as 40 cents a day. The PSA shows Mario Batali, Marcus Samuelsson, Martha Stewart, Pat LaFrieda, Padma Lakshmi, Wylie Dufresne, Daniel Boulud, David Burke, Buddy Valastro, Gabrielle Hamilton and Dana Cowin demonstrating absurdly small amounts of food valued at 40 cents, to highlight the low daily cost of medication.
(RED) partner, SQUARE, is rallying its food vendor fans across the US to turn (RED) for 10 days in June. Every time a $10 Special Edition SQUA Reader is ordered, Square contributes $9.72 to the Global Fund.
Plated – the ready-to-cook ingredient delivery service that allows you the flexibility to choose your recipes each week – is featuring Mario Batali's 'Two-Minute Calamari Sicilian Lifeguard (RED)-Style' recipe in support of the EAT (RED). DRINK (RED). SAVE LIVES campaign, available from mid-May through June 7th.
For take-out and food delivery fans, on June 1st, delivery.com will match all member donations of delivery.com Delivery Points to the Global Fund to Fight AIDS. Additionally, for new delivery.com customers signing-up via (RED)-branded ads between June 1st-14th, delivery.com will give a $4 credit to new accounts, and a matching $4 donation to the Global Fund, for a combined matching donation of up to $15,000.
OpenTable.com will be listing and promoting (RED) restaurants, while making reservations easy for food fans who want to EAT (RED). Zagat is partnering with (RED) to support the campaign by highlighting top participating Zagat-rated restaurants through lists and features on Zagat.com, while helping readers discover where to dine to have an impact through online promotions and social media.
In addition to a $10,000 donation to the Global Fund, LeCreuset is generously providing a 20-piece red cookware set for one lucky home cook to win through a sweepstakes partnership with Eater.
Promotion for EAT (RED). DRINK (RED). SAVE LIVES includes a media campaign secured by Hill Holliday, across television, digital, out of home and print including ABC, Bravo, Food Network, OWN and TLC, among many others.
To date, (RED) has generated more than $250 million for the Global Fund to fight AIDS, to support HIV/AIDS grants in Ghana, Kenya, Lesotho, Rwanda, South Africa, Swaziland, Tanzania and Zambia. 100 percent of that money goes to work on the ground – no overhead is taken. Global Fund grants that (RED) supports have impacted more than 40 million people with prevention, treatment, counseling, HIV testing and care services.