Actress, multi-platinum recording artist and UNICEF Ambassador Selena Gomez just returned from a visit to Nepal, where she traveled to bring attention to children in need within the country and across the globe.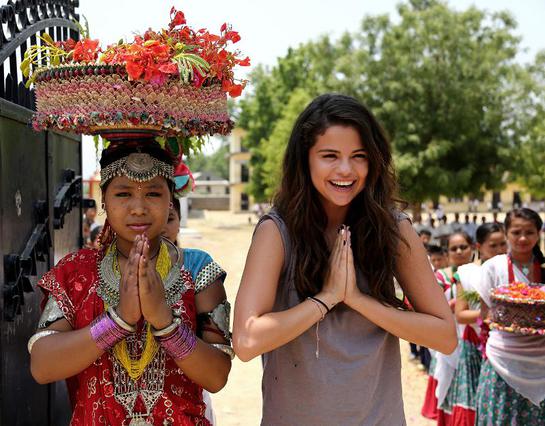 During her trip, Gomez saw firsthand the impact of UNICEF's programs that help children survive and develop. She had an in-depth look at UNICEF's work focused on education, nutrition, health and protection.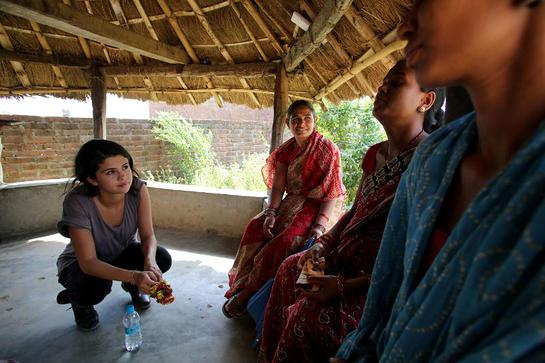 "This visit to Nepal was extraordinarily powerful — at times, devastating and heartbreaking, but also incredibly inspiring," said Selena Gomez. "At first when you witness children living in extreme poverty you wonder how it is possible that they can be deprived of their basic human needs and rights. Then you talk to these children and you see hope, promise and a bright future. This generation of children believes they can make a difference, and they take action. It starts with quality education and leadership opportunities, like those UNICEF is providing. I'm so proud to serve as a UNICEF Ambassador and be part of a greater movement to help the world's children."
During her trip, Gomez visited the child-friendly Satbariya Rapti Secondary School, supported by UNICEF, that has a safe, interactive, creative and fun learning environment for students. After observing children studying math, science and language, she sat down with members of a 'child club.'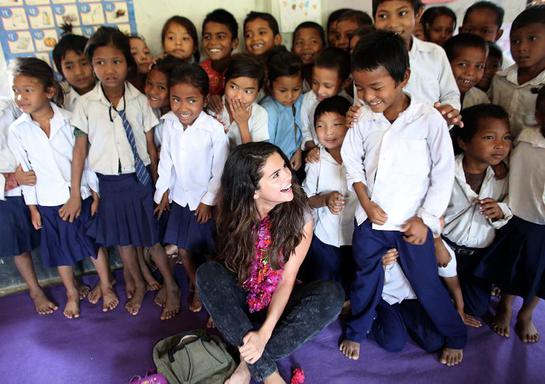 "It was amazing to learn from these young boys and girls about how they are influencing their peers as well as adults on issues that have an impact on their lives," said Gomez. "Many of the children I talked to expressed a desire to be future leaders in their society, and I was moved to hear them emphasize the importance of education."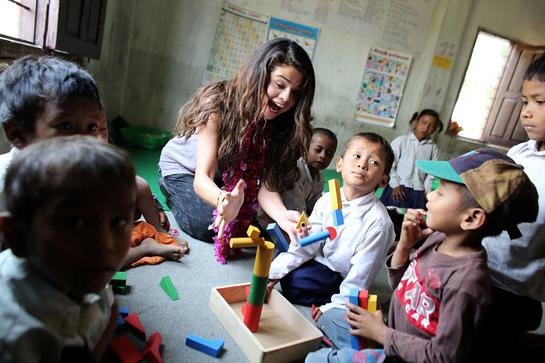 Music was in the air at the Satbariya school as the child club members broke into a Nepali folk song, playing musical instruments presented to them as a gift by Gomez. She later joined students as they performed traditional dances of the Tharu community.
Gomez met UNICEF-supported Female Community Health Volunteers in Gangaparaspur Village and learned about their efforts to reduce illness and death among children and mothers. "It was incredible to learn about the services being provided by these volunteers. They're dedicating their time to helping women stay healthy during pregnancy and deliver their babies in a safe environment," said Gomez.
In Hapur Village, Gomez met with the women of the Paralegal Committee and the Gender-Based Violence Watch Group who mediate cases of conflict, divorce, domestic violence, child abuse and more. Gomez spoke with a couple of survivors who had been helped by the Committee. Later that day in Dokrena/Khaira Village, Gomez interacted with youth and came to learn how they act as change-agents in their communities, spreading the message about the importance of sanitation facilities and hygiene. Gomez saw these adolescents perform a skit about sanitation and practiced proper hand-washing techniques with them.
In the village of Kohalpur, Gomez met with young people who had been recruited into the armed conflict that ended eight years ago and learned how, with UNICEF's support, they reintegrated back into their families and society. "It was difficult to hear about the harsh lives these girls led in the camps, but I was inspired by their motivation to build a better future," said Gomez.
Calling the trip an "eye-opener," Gomez said, "The children of Nepal have taught me that with a lot of passion, optimism and hard work, anything is possible. That's the message I would like to convey to young people across the world: Believe in your dreams and pursue them."
Selena Gomez is a recording artist, actress and designer. A UNICEF Ambassador since 2009, Gomez has played an active role in advocating for the world's most vulnerable children by participating in numerous campaigns, events, and initiatives on behalf of the U.S. Fund for UNICEF, including headlining charity concerts and serving as a previous spokesperson for the Trick-or-Treat for UNICEF campaign. This was Gomez's third trip on behalf of UNICEF. She previously visited Ghana and Chile.
Source: US Fund for UNICEF