More than four million dogs enter shelters each year – and the PEDIGREE Brand is dedicated to helping change the lives of shelter dogs in a big way.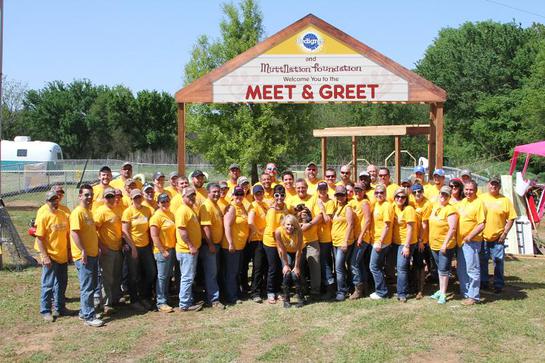 To show their support, today PEDIGREE announced plans to improve shelters across the country through a shelter renovation project. This project is a continuation of the documentary-style See what good food can do campaign that launched in earlier this year to show first-hand how good food can change the lives of shelter dogs, like those featured in the campaign.
"Shelter staff and volunteers work around-the-clock to provide love and attention to these pets. Providing much needed improvements to the shelters is a natural next step for us," said Merritt Gilbert, brand manager, PEDIGREE Brand. "We hope that through the shelter renovation project – and by giving the shelters good food to feed their dogs – we will create a more welcoming and healthy environment. We believe this will lead to more dogs finding their loving homes."
Shelter Renovation Project
The PEDIGREE Brand, with the help of independent charitable organization GreaterGood, PEDIGREE associates and community volunteers, is facilitating shelter improvements in every state across the country – such as painting, installing new signage and enhancing kennels and play areas. And, to kick-off the shelter renovation project, PEDIGREE visited special friend and dog-lover, Miranda Lambert, at the Tishomingo Animal Shelter, in her hometown. Miranda, along with her family and friends, rolled up their sleeves to help more than 50 PEDIGREE Associates from across the Midwest transform the Tishomingo Animal Shelter into one that's more welcoming for the dogs and potential adopters. Together, they cleaned, painted and constructed agility courses – all to help more pets find forever homes.
"I'm so happy to be working with PEDIGREE because they are as committed as I am to helping all these beautiful dogs find loving homes. I started supporting this shelter to ensure every dog in my hometown would have a safe place to stay and enough food to fill their bellies. And, PEDIGREE has helped me deliver on both those promises," said Lambert during the work day at the shelter.
Sharing the See what good food can do Story
Along with the debut of the PEDIGREE Brand's documentary-style See what good food can do campaign earlier this year, dog loving friends David Ortiz and Josh Duhamel shared their stories through documentary films. In David's film, he shared his favorite memories about his own dogs Foxxy and Happy while spending time at his local animal shelter, and Josh reminisced about his beloved rescue dog, Meatloaf, and the importance of dog adoption to him and his family. Now, dog lover Miranda Lambert is unveiling her story with a film that showcases her passion for dog adoption and showcases the renovation of her hometown shelter. Check out Miranda's story – as well as David's and Josh's – at Facebook.com/Pedigree.
Every dog owner has a tale to tell – stories of lives transformed by shelter dogs who have found their forever homes, the impact a family pet has made on their life, the difference good food has made in the life of their pet and more. PEDIGREE is continuing to rally the support of dog lovers nationwide by calling on them to share their stories – like Miranda, David and Josh have done – with #DogTales on Facebook, Twitter or Instagram. For each story shared, the Brand will donate an additional bowl of food to a shelter in need. Together, we can see the impact that good food can make in the life of a shelter dog.
Source: PR Newswire