Prince Harry joined the Duke of Cambridge at Buckingham Palace today to help launch the search for inspirational people across the Commonwealth.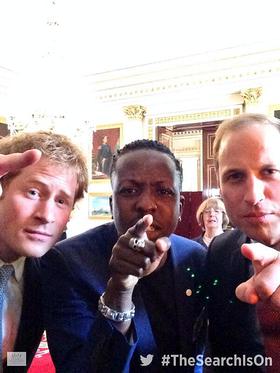 The Royals joined Jamal Edwards – internet entrepreneur and founder of the youth channel SBTV – to kick off the Queen's Young Leaders programme to find inspirational young people who are making a difference.
On behalf of The Queen, Their Royal Highnesses were launching the awards which have been set up in recognition of Her Majesty's 60 years of service to the Commonwealth.
Exceptional people aged 18-29 will receive awards for leading the way where they live and the awards scheme will support them to do even more life-changing work in their communities.
Grants will be made to organisations in selected Commonwealth countries that can show they are improving the lives of young people. The grants will help individuals gain new skills, employment and a voice in their communities. The programme is a partnership between Comic Relief, The Diamond Jubilee Trust and the Royal Commonwealth Society.
The brothers took part in the first-ever Royal Google+ hangout which was hosted by Gemma Cairney and shown on the British Monarchy Google Plus page.
Find out more here.
Source: www.princehenryofwales.org