Prince Harry viewed an exhibition of photographs of young British servicemen and women who have suffered life-changing injuries on military duty in Iraq and Afghanistan.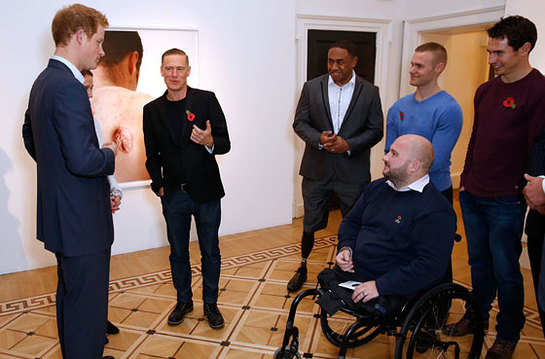 Prince Harry, who spent Remembrance Sunday in Kandahar in honour of the fallen, visited Wounded: The Legacy of War by singer turned photographer Bryan Adams at London's Somerset House on Armistice Day – the anniversary of the end of World War One.
The Prince, who has served on two tours of duty in Afghanistan, met some of the soldiers who took part in the project, including Sergeant Rick Clement who lost both his legs after he stepped on an IED during patrol in Afghanistan in 2010.
The 34-year-old wore his smart red, black and white Mess Dress for the shoot with Adams, and Prince Harry told him it: "You must be really proud of that, it's a strong photo."
The exhibition of 30 portraits opens to the public tomorrow while the photographs can also be seen in a book, with proceeds from sales going to veteran support charities.
Bryan Adams, who gave a speech as The Prince joined him at the reception, said: "Looking around the rooms, you will see the aftermath of war. So many of our soldiers came back and so many didn't."
He went on: "This book and this exhibition was six years in the making and what was fascinating but also uplifting was hearing the stories of the servicemen and women.
"Most of us will not know what it's like to feel the harsh reality of returning home from one battle only to discover that another battle awaits – rehabilitation."
The singer added: "Today is Armistice Day when we bow our heads to the fallen. But it's also very important that we remember the living, particularly the wounded. They must not be forgotten."
Speaking after his meeting with His Royal Highness, Sgt Clement, from Blackpool, said: "It really is a fantastic project to be involved with.
"It shows the harshness of the injuries but also how the guys and the woman that was involved have just got on with life. They are still out there doing things every day to be proud of."
He added that the veterans who took part in the exhibition were heroes.
"It's a name that gets used far too easily – the word hero – but there's definitely people in that book that are heroes.
"I wouldn't include myself in that but there's certainly some in there."
The project began in 2008 when ITN journalist Caroline Froggatt approached Bryan Adams with a view to producing portraits of wounded veterans following a visit to the military rehabilitation centre Headley Court.
She said: "These portraits are definitely a reminder of how savage war is, but they are also a vehicle to promote a greater understanding and awareness in other people about that ongoing duty of care the public now have."
"It's not just the duty of care that the Ministry of Defence have for their wounded, it's actually something that we as a society need to embrace."
The Prince is passionate about supporting British servicemen and women who have been injured in the line of duty. He trekked to the South Pole with a Walking With The Wounded team and also set up the successful Invictus Games.
"Our wounded, injured and sick do not want pity, they simply want to be treated the same way they were before they were injured – with respect and admiration," he has said previously.
Last week, Prince Harry and The Duke of Cambridge held a Recovery Pathway reception at Buckingham Palace to meet medical staff responsible for the care, recovery and rehabilitation of wounded veterans.
Source: www.princehenryofwales.org