Jennifer Aniston, Sofia Vergara, Michael Strahan, and Luis Fonsi join St. Jude Children's Research Hospital National Outreach Director Marlo Thomas in leading a star-studded roster of celebrities lending their time and talents in support of the 11th annual St. Jude Thanks and Giving campaign.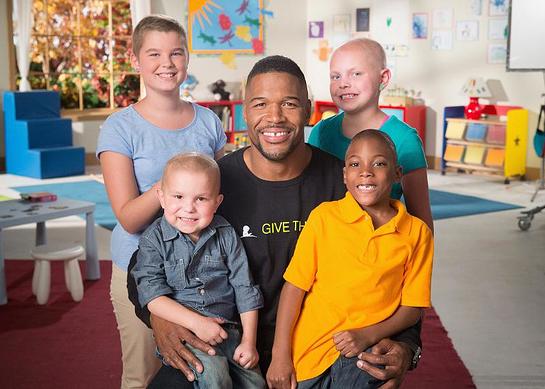 Jon Hamm makes his campaign debut in a 60-second movie trailer that will appear in theaters nationwide beginning in November.
St. Jude Thanks and Giving is an unprecedented union of celebrities, media and more than 60 of the nation's leading brands and companies that ask consumers to donate while they shop this holiday season to help St. Jude provide cutting-edge treatment and pursue visionary research. The national television commercials and movie theatre trailers, which debut Thanksgiving week and run through the end of the year, will feature Jennifer Aniston and other celebrity friends alongside St. Jude patients.
"I love being a part of the St. Jude Thanks and Giving campaign," said Aniston. "This year I appeared with Sam and Waylon in the TV commercials. They are the true stars and I had so much fun spending time with them. I am so inspired with their amazing courage and perseverance. This holiday season you can join the fight against childhood cancer and help St. Jude continue its research to find cures and save the lives of children across America."
"This is my 3rd year working with St. Jude and it means so much to be a part of a team that helps save children's lives," said Sofia Vergara. "This year I appeared with Sebastian in one of the St. Jude Thanks and Giving television spots. He is such an inspiration to me. Your support will help ensure that Sebastian and so many children like him from across America and around the world continue to benefit from the lifesaving research and treatment being done every day at St. Jude."
St. Jude celebrity friends Keith Urban, Sabrina Soto, Daisy Fuentes and Olivia Holt are also supporting the campaign by designing special products that will be for sale during the holiday season online at the St. Jude Gift Shop with 100 percent of profits, after all related expenses, benefitting St. Jude.
· World renowned songwriter, vocalist, musician and guitarist Keith Urban designed a holiday ornament featuring one of his guitars, a "St. Jude Rocks" design and his logo on the back.
· Design expert Sabrina Soto created a slate cheese board exclusively for St. Jude. The gift set includes an assortment of cheese utensils and two sticks of chalk to help personalize any party spread.
· Daisy Fuentes, model and fashion designer, designed an exclusive charm necklace, featuring an artistic "LOVE" charm and a St. Jude child logo cutout charm.
· Actress Olivia Holt brought inspiration to an iPhone case with the powerful message, "Keep your head up, keep your heart strong."
The campaign receives additional support from celebrity friends Lily Aldridge, Marsha Ambrosius, Garcelle Beauvais, Camilla Belle, Max Burkholder, Shirley Caesar, Erica Campbell, Dorinda Clark Cole, Monique Coleman, Rachael Leigh Cook, Judd Daugherty, Ricky Dillard, James Fortune, Brian Geraghty, Hunter Hayes, AJ Johnson, Donnie McClurkin, Jennette McCurdy, Jonathan McReynolds, Smokie Norful, Elisabeth Rohm, Karen Clark Sheard, Marina Squerciati, Mark Steines, Ashley Tisdale, Michelle Williams and Mike Wolfe in the form of radio spots, online videos, social media support, participation in the St. Jude Give thanks. Walk and more.
"Over the past several years I've met so many of the incredible children receiving treatment at St. Jude Children's Research Hospital," said Michael Strahan. "Their stories are inspiring and their positive attitudes are amazing. The research being done at St. Jude is so critically important, it benefits children across the country and families don't have to pay for anything. I hope everyone will join me and support St. Jude in the fight against childhood cancer."
"I am always so touched by the love and support our celebrity friends lend to our St. Jude Thanks and Giving program year after year," said Marlo Thomas. "Beyond their time and talent, they bring their full hearts to this campaign – and you can see that in the genuine warmth they share with the children. The awareness they bring to St. Jude is vital to our mission. Through these beloved stars, we are able to reach millions across the country each year; and in doing so, we continue to receive amazing support, which allows us to keep my father's founding promise that no family ever pays St. Jude for anything – not for treatment, travel, housing or food. That's because we believe all a family should worry about is helping their child live."
The national television spots will air on network and cable television channels, as well as online, in both English and Spanish. In addition, movie trailers starring celebrity friends appear in theatres nationwide – including Regal Entertainment Group, AMC Theatres, Cinemark, Carmike Cinemas and many others – as well as on American Airlines and Delta Air Lines flights. All of the spots, as well as exclusive behind-the-scenes footage, will debut online in late November.
The St. Jude Thanks and Giving campaign began as a holiday-focused fundraising effort and has grown into an annual tradition that has raised more than $487 million thanks to tremendous public support. Throughout the months of November and December, consumers shopping where the St. Jude logo is displayed can make a donation at checkout or purchase specialty items that benefit St. Jude. Those wanting to support the lifesaving mission of St. Jude are also invited to donate online or by phone at 800-4STJUDE. For more information, visit www.stjude.org.