David Walliams and Comic Relief have travelled to Kenya to see the positive change happening right now in sub Sahara Africa.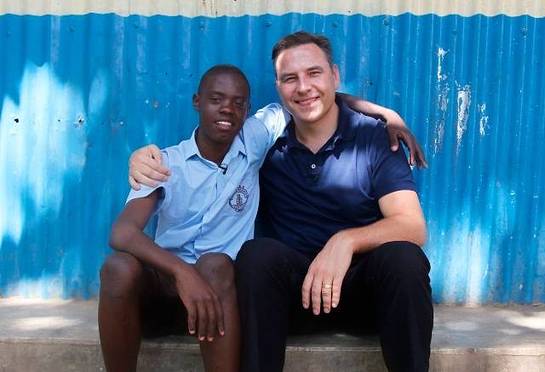 To mark the launch of Red Nose Day 2015 the comedian visited the town of Kisumu in the far west of the country to see just how much progress is being made.
The first port of call was the Hope for Victoria Children (HOVIC) project which uses Comic Relief cash to give children living unimaginably tough lives the chance to build a better future. Since 2003, staff at the centre have provided basic but vital care such as food, shelter, medicines and education.
It's not David's first visit to HOVIC though, because it was here in 2011 that he first met Phillip, the boy who inspired him to take on his titanic Thames swim. Back then the youngster was living under a plastic sheet on waste ground in the middle of a duel carriageway. Along with a handful of other young street children, Philip was eating scraps off plates at restaurants and his future was looking incredibly bleak.
Now, thanks to HOVIC, Philip, who is now 15 years old, isn't just off the streets, he's crucially in the classroom too, getting the education he needs to be able to support himself in later life.
When they saw each other again David found it hard to hide his emotions at the transformation he saw:
"It was one of those moments where you want to cry because you feel happy. It was incredible to see how he's changed. He's grown up, but also the look on his face was totally different, the look in his eyes," David said. "He had such a tough life before, unimaginably hard to someone like me. And now he's in such a better place and I feel proud to be part of that. I'm so pleased that the message we can send home is that this works. This works. Your money works. It changes lives. You can see that with Philip."
The good news isn't just confined to Philip either, during the past three years alone HOVIC has helped 661 children access education and provided health care services for over 2,000 children.
Further afield back when Comic Relief began only around 50% of children completed their primary school education in Sub-Saharan Africa. Today that figure stands at 70% and rising. And since the last Red Nose Day, 12 million people have been helped by Comic Relief, 250,000 of them are homeless children like Philip.
What's more, compared to back in 1990, almost 2000 more children are surviving past their fifth birthday every single day across the region, in part because of the strides made in the fight against HIV/AIDS and malaria.
There's still much to do, of course there is, but real tangible progress is being made and your support is what will help keep the good news coming and what will help see more lives totally transformed, just like Phillip's has been,
For more information on how the money you raise changes lives, click here.
Source: Comic Relief