Prince Harry this week met charity fundraisers at Twickenham Stadium who were taking part in this year's London Marathon to raise money for charities supported by himself and The Duke and Duchess of Cambridge.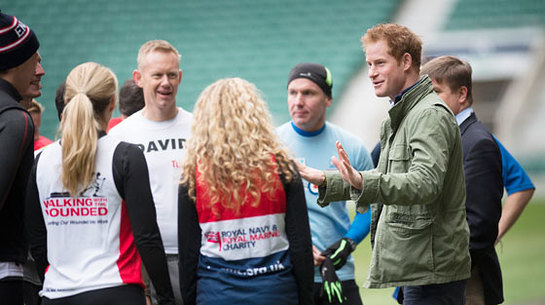 His Royal Highness watched about 60 athletes who were being put through their paces in a training session at the stadium, the home of England Rugby, ahead of the 26.2 mile marathon in April.
Prince Harry told Jane Fishwick, who is running for the RFU Injured Players Foundation of which he is Patron: "It is a good cause but (doesn't it hurt) your knees and your back?"
Ms Fishwick asked him: "Are you going to do it?"
Prince Harry replied: "Erm, no! Everybody keeps asking me to."
His Royal Highness spoke to the charity runners in England's home dressing room before standing pitchside to watch their exercise session with some Army physical training instructors.
They will be running on behalf of a collection of organisations involved in the Charities Forum – a family of charities which have The Duke and Duchess of Cambridge and Prince Harry as Patrons.
As Prince Harry is Patron of the London Marathon Charitable Trust the organisers of the sporting event have awarded five places to each of the charities involved in the Forum, giving them extra opportunities to raise money.
Those taking part in the session also attended workshops on nutrition, injury prevention and fundraising.
Source: www.princehenryofwales.org