Some of the world's leading actors have today joined forces in a new children's educational project called GivingTales.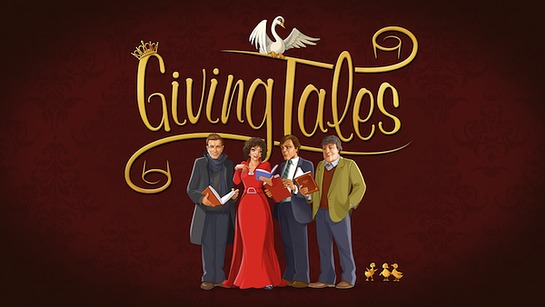 It aims to produce engaging and entertaining versions of popular children's fairy tales while helping to teach and educate children worldwide. As part of the company's mission to educate and support children, GivingTales kft is committing 30% of its revenue to Unicef UK to help children around the world.
Developed in association with Sir Roger Moore, a UNICEF Goodwill Ambassador, GivingTales features the voice talents of world-renowned actors including Ewan McGregor, Unicef UK Ambassador, Stephen Fry, and Dame Joan Collins. Hans Christian Andersen's timeless fairy tales have now been modernised, condensed and paired with vivid illustrations that capture the universal and timeless life lessons synonymous with Andersen's stories.
"I've been a long time admirer of Hans Christian Andersen's work, and I think it's a wonderful collection of fairy stories for children and adults alike," said Sir Roger Moore.
Many of the themes in Hans Christian Andersen's stories have relevance for children today, such as bravery, selflessness, and compassion.
"The Ugly Duckling is the primal story about bullying and self-belief – it is a marvelous tale," said Stephen Fry, actor, screenwriter and author.
Available for free download starting today on Apple, Android, and Windows Phone 8 mobile devices, the app comes with The Princess and the Pea (Sir Roger Moore, KBE). Each additional story is available for download at $3.99 each. Three additional stories are available in the first series: The Emperor's New Clothes (Dame Joan Collins, DBE), The Little Match Girl (Ewan McGregor, OBE) and The Ugly Duckling (Stephen Fry).
Today's children are increasingly accustomed to consuming content in one short sitting. While paper books may be giving way to digital versions, classic fairy tales never grow old. There's a big need to adapt traditional stories into shorter, animated versions, so they can captivate and inspire another generation of young readers.
"Taking care not to lose the essence of what makes Hans Christian Andersen's stories so great, GivingTales has condensed the stories down so they can be enjoyed in minutes, not hours. Using the voices of renowned actors gives them new life in a memorable and entertaining way," Jacob Moller, CEO of GivingTales.
"We're overwhelmed by the initial support we've received, both from the celebrities affiliated with our project, as well as our ongoing relationship with the Unicef UK. Together, we hope to make a difference in the lives of many of children around the world," said Klaus Lovgreen, Chairman, GivingTales.
GivingTales was developed by an award-winning team of illustrators and producers. The company's founders have a history of developing digital entertainment content, having developed Top Ten apps for both Apple App Store and Google Play. GivingTales is currently available in English with plans for additional stories, actors, and titles being made available over the coming months.