Sir Paul McCartney – joined by Beck – performed for a sell-out, star-studded crowd Wednesday night at PETA US' 35th anniversary gala at the Hollywood Palladium in Los Angeles.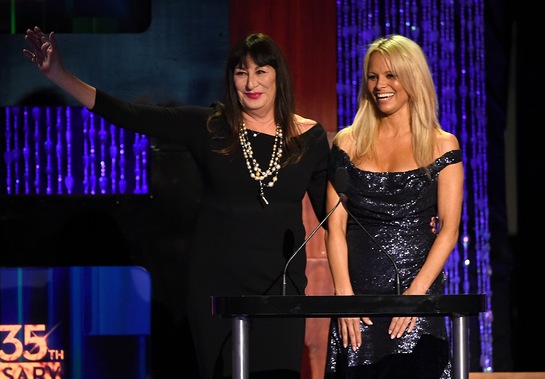 The concert followed a humanitarian awards show hosted by Anjelica Huston and Pamela Anderson. Jason Biggs, Tommy Lee, James Cromwell, Noah Cyrus and Alicia Silverstone accepted awards for helping PETA US halt cruel animal experiments, sink SeaWorld and pressure Ringling Bros. to retire its elephants.
Joaquin Phoenix and his family presented the first-ever River Phoenix Humanitarian Award to Earthlings filmmaker Shaun Monson, rapper RZA and actor Maggie Q were honored for their vegan campaigns and US Republican strategist Mary Matalin was awarded for helping PETA US kill GOP-sponsored "ag-gag" bills in 11 states.
Among the guests who enjoyed a gourmet vegan dinner were James Corden, Ke$ha, William H. Macy, Joanna Krupa, Seth Green, Emily Deschanel, Moby and Dermot Mulroney.
While accepting his award, RZA said, "It's an award that does not aim to reflect my art – it instead reflects my heart".
Said James Cromwell, "Those who have no voice, no vote, no clout could not have a better champion. When push comes to shove, my money's always on PETA!"
Jason Biggs thanked an unlikely source in his acceptance speech – SeaWorld: "Thank you, SeaWorld. Without you, those gorgeous orcas would be free to swim with their families in the oceans they belong in. Instead, they are jailed in your horrible excuses for theme parks, and as a result, I get to stand up here accepting this award".
During his exclusive concert, McCartney told the audience, "When I first heard the name, that's what appealed to me, People for the Ethical Treatment of Animals. I thought that was really a very dignified, very cool title. They've got 35 years of saving so many animals. And we love them". He performed a number of hits, including "Let It Be", "Hey Jude", "Lady Madonna", "Drive My Car" (performed with Beck), and an animal rights–themed song that he wrote called "Looking for Changes".
In 35 years, PETA US – whose motto reads, "Animals are not ours to eat, wear, experiment on, use for entertainment or abuse in any other way" – has grown from a handful of volunteers into the world's largest animal rights organisation, with more than 3 million members and supporters worldwide.