Prince Harry has attended the official opening of a landmark centre helping African orphans and other vulnerable youngsters, launched by his charity Sentebale.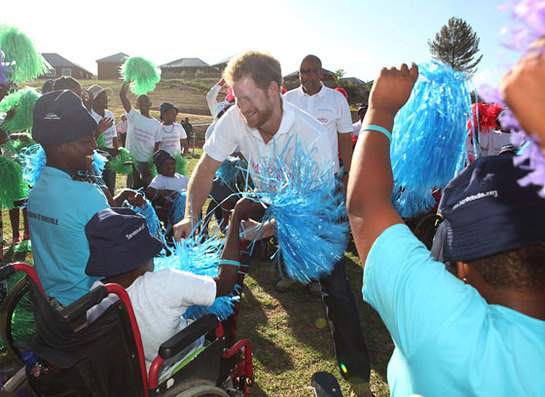 As Sentebale's £2 million Mamohato Children's Centre was opened in the African nation of Lesotho, Prince Harry movingly described his own experience of bereavement – something many of the children helped by his organisation are living with.
His Royal Highness's first visit to Lesotho in 2004, as part of his gap year, inspired him to set up the charity Sentebale with Lesotho's Prince Seeiso to help youngsters in need and other children who had lost one or both parents to AIDS or contracted the disease themselves.
It was during the 2004 visit that Prince Harry met Mutsu who was just four years old. The prince and Mutsu struck up a special friendship during that first meeting at the Mants'ase Children's Home in Mohale's Hoek.
Prince Harry gave Mutsu, who helped him plant a tree during a photocall, a pair of bright blue wellington boots, which the youngster refused to be parted from at the time. Since then, Mutsu has been part of Sentebale's scholarship programme and has also benefited from residential care and financial grants.
Mutsu, now 15 years old, and The Prince have stayed in touch and met several times over the years. They were reunited again at the Mamohato Children's Centre official opening.
Speaking about the orphans, Prince Harry told the guests gathered at the centre's opening ceremony: "They were far younger than me, and of course, their situation was a great deal more challenging than my own.
"Nonetheless, we shared a similar feeling of loss, having a loved one, in my case a parent, snatched away so suddenly. I, like them, knew there would always be a gaping hole that could never be filled.
"For so many of the children in Lesotho, that situation was compounded by the harsh environment and extreme poverty they faced. At the age of just eight or nine taking on the responsibility of caring for brothers and sisters there was simply no time for being a child anymore."
The new centre was opened by Prince Seeiso's brother King Letsie III, Lesotho's monarch, who donated land for the project in the foothills of Thaba Bosiu – a mountain revered as the birthplace of the Lesotho nation.
Prince Harry said: "This centre is now the heart of Sentebale, situated on the hallowed ground of Thaba Bosiu in the country that is our home, Lesotho; it represents how far we have come as a charity but more importantly how much more we want to achieve."
The new facility will allow Sentebale to scale up its Mamohato camps – a residential project that provides psychological, social and practical support to children struggling to cope with HIV/AIDS.
Prince Harry told the guests, who included Sentebale ambassador Joss Stone who will perform at a private dinner to mark the opening: "The theory of our Mamohato camp is simple – if children have the chance to share with each other how HIV affects them and how they cope with it in a safe and accepting environment, they will lead healthier, more well-adjusted lives.
"Through these camps, children learn about their condition and can then share this knowledge with their peers once they return home."
Prince Harry went on to say: "The Mamohato Children's Centre will enable us to reach many more of these children than has previously been possible. We will increase the number of those attending camps from 400 to 1,500 per year – which represents 29% of our target adolescent group."
Towards the end of the ceremony the guests watched a dance troupe from the Sentebale Herd Boys School of Excellence, before Prince Harry, Prince Seeiso and The King joined one of the boys on stage and each received a grey woollen blanket, traditionally worn by Lesotho's Basotho people.
Source: www.princehenryofwales.org