Katie Holmes, Kate Moss, Dinho Diniz, Felipe Diniz, Anitta, Preta Gil, Sabrina Sato, Mert Alas, Barbara Fialho, and Julian Lennon were among those who gathered at the seventh annual amfAR Gala São Paulo to honor Brazilian artist Vik Muniz for his commitment to the fight against AIDS.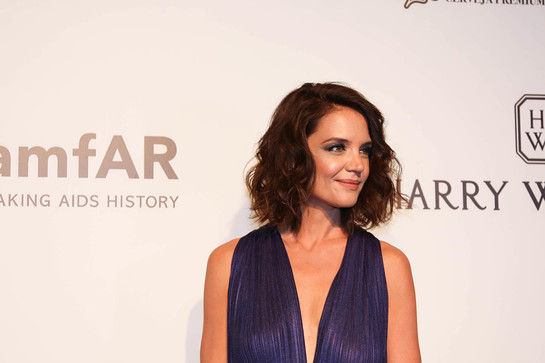 The event, presented by Harry Winston, raised over $1.3 million for amfAR's lifesaving AIDS research programs.
Other guests in attendance included Ronaldo, Marina Ruy Barbosa, Mariah Bernardes, Paulo Gustavo, Juliana Paes, Lea T., Regina Casé, Fiorella Matheis, Luciana Gimenez, Lucas Jagger, Regina Pereira, Paula Martins, Fernanda Paes Leme, Erika Alkessuani, Rodrigo Bocardi, Júlia Faria, Helena Bordon, Lala Rudge, Lele Saddi, Malu Barreto, Lea Cerezo, Yasmin Brunet, Fernanda Motta, Laura Neiva, Anna Fasano, Donata Meirelles, Isabella Santoni, Celina Locks, Carolina Ferraz, Luiza Brunet, Deborah Nascimento, José Loretto, Cauã Raymond, Fabio Porchat, Sergio Marone, Didi Wagner, Beto Pacheco, Carol Ribeiro, Adriane Gaisteu, Mariana Goldfarb, Sergio Degese, Carlo Jereissati Filho, and Miguel Garcia, among others.
Katie Holmes and Felipe Diniz opened the evening by welcoming guests and thanking the event sponsors. Holmes then introduced amfAR CEO Kevin Robert Frost, who spoke about amfAR's Countdown to a Cure for AIDS initiative, which in less than three years has awarded grants totaling close to $40 million to support HIV cure-focused research conducted by more than 150 scientists working at 55 institutions in 10 countries around the world.
Regina Casé, host of the 2016 Olympics Opening Ceremony in Rio de Janeiro and known as "the queen of diversity" in Brazil, presented the amfAR Award of Courage to "one of today's most important and influential artists," Vik Muniz. Muniz, who has been a dedicated supporter of amfAR and donated many of his pieces for auction at amfAR's galas in São Paulo, contributing nearly $400,000 to AIDS research, described the recognition as an incredible honor.
The evening also featured two spectacular live performances. Model Lea T. introduce the evening's first performer, Brazilian singer Preta Gil, who gave a meaningful performance of Children of the Rainbow, an upcoming song to benefit amfAR.
Brazilian television personality Sabrina Sato introduced the evening's headliner, two-time Latin Grammy Award-nominated singer Anitta, who ended the event with an explosive set of her biggest hits that kept guests dancing into the night.
Dinho Diniz, Felipe Diniz, and Kate Moss served as Event Hosts. Chairs of the event included Pedro Almodóvar, Malu Barreto, Victoria Beckham, amfAR Chairman of the Board Kenneth Cole, Francisco Costa, Sergio Degese, amfAR Global Fundraising Chairman Milutin Gatsby, Nizan Guanaes and Donata Meirelles, Lewis Hamilton, Nayla Hayek, Carlos Jereissati Filho, Julian Lennon, Marina Morena, Sean Patterson, Catarina Pires, Vincent Roberti, Nara Roesler, Sabrina Sato, and Lea T. Miguel Garcia and Holger Marquardt were Vice Chairs.
Harry Winston was the Presenting Sponsor. The event's Signature Sponsors were Iguatemi São Paulo, Karavelle and Moët Hennessy. Mercedes-Benz, Tivoli Mofarrej and Vogue Brasil were the Associate Sponsors. Delta Air Lines is the Official Airline of amfAR. The amfAR Gala São Paulo was produced by Josh Wood/Josh Wood Productions.
To date, the amfAR Gala São Paulo has raised over $11.5 million for amfAR's lifesaving AIDS research programs.