Hollywood came out in full force to catch a night filled with action-packed boxing matches, live performances and more at the B. Riley & Co. 8th Annual "Big Fighters, Big Cause" Charity Boxing Night at the Loews Santa Monica Beach Hotel in Santa Monica, CA.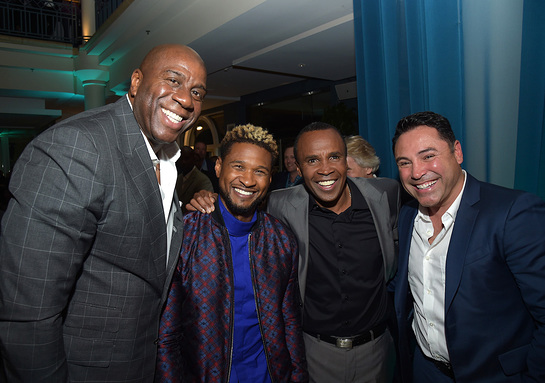 The star-studded evening of boxing presented by Oscar De La Hoya's Golden Boy Promotions benefitted the Sugar Ray Leonard Foundation and its mission to fund life-changing research, care and awareness for pediatric type 1 & 2 diabetes and to help children live healthier lives through diet and exercise.
Attended by Sugar Ray Leonard and hosted by actor and comedian Bill Bellamy, the night also featured a national anthem performance by En Vogue, as well as a live & silent auction display, which included iconic memorabilia and other one-of-a-kind items and experiences to benefit the foundation. Additionally, the evening honored nine-year-old Jackson Blair with the 2017 Golden Glove Award for his extraordinary dedication and hard work to raise money and awareness for type 1 (T1D) diabetes.
Celebrities, VIP guests and Sugar Ray Leonard Foundation supporters in attendance included Usher (Actor/Recording Artist), Cindy Crawford and Rande Gerber, Luke Wilson (Actor), Oscar De La Hoya (Golden Boy Promotions Chairman and CEO), Magic Johnson and Cookie Johnson, En Vogue (R&B/Pop Vocal Group), Tina Knowles Lawson and Richard Lawson, Bo Jackson (Former NFL/MLB Athlete), Chris Spencer (Actor, Black-ish), Johnny Gill (Recording Artist), Laila Ali Conway (Former Professional Boxer), Mia St. John (Boxer), Rodney Peete (Former NFL Athlete), Sergio Mora (Professional Boxer), Terry Norris (Former Boxer), Tommy Davidson (Actor/Comedian), Jeffrey Osborne (Recording Artist), and more.
Main event to the exclusive charity boxing soiree, Kevin "K-Smoove" Rivers, Jr. (14-1, 10 KOs) took on Mexico City's rugged Roberto "Escorpión" Pucheta (10-11-1, 6 KOs) in a six round lightweight bout. Rivers, Jr., returning to the ring after a 16 month absence, turned up the heat in the third round throwing combinations, giving his opponent a bloody nose late in the round. "K-Smoove" found his groove as the rounds progressed, landing with accuracy. The judges scored the bout all in favor of the East Coast fighter, awarding Rivers, Jr. the unanimous decision win with scores of 60-54, 58-56, and 59-55.
"It's an honor to be a part of such an event, for such an important cause, especially for my man Sugar Ray," said Kevin Rivers, Jr. "It was a tough, competitive bout and it was a great way to jump back into the game after 16 months of being out of the ring."
Rising star Luis "King Louie" Coria (4-0, 3 KOs) took a step up, going toe to toe with the more experienced Antonio "Chore" Martinez (7-10, 5 KOs) in a four round super featherweight bout also part of the star-studded event. It was the first time Coria has gone the distance in his professional career, displaying generalship of the ring. A strong right hand stunned Martinez in the first and third rounds – with Coria even catching "Chore" on the ropes several times. In the end, all three judges scored the bout unanimously 40-36, in favor of Coria.
"My grandpa passed away from diabetes, so this means a lot to me to be able to be a part of helping find a cure for this disease," said Luis Coria. "I feel good about my performance as I got the win."
In round five of the scheduled six round middleweight bout, LA's Marvin Cabrera (4-0, 4 KOs) knocked out Shreveport, Louisiana's Quantavious "King Tulu" Green (1-1, 1 KO). At the start of the fight, Cabrera and Green traded heavy punches, however after two rounds, Green became exhausted and dropped his defense. Cabrera, taking hold of the opportunity, went forward and bombarded Green with a powerful body shot and overhand combinations. The referee stopped the fight before the fifth round could start due to a left eye injury sustained by Green, awarding Cabrera the technical knockout.
"I'm happy I got to add another knockout to my record at an event like this," said Marvin Cabrera. "I'm looking forward to tougher fights where I can continue to show off what I have."
Opening up the 8th annual charity event was Indio's Alfredo Escarcega (2-0) going the distance in a scheduled four round super lightweight bout against LA's Rolando Padilla (0-2). Escarcega sent Padilla to the mat twice in the fight, in the first and third rounds, with the same powerful left hook. Escarcega won the fight via unanimous decision with all three judges scoring the fight 40-34.
"I was so excited to be a part of such an event, I just couldn't say no. It's a great cause, and I'm glad that I got to be featured on it," said Alfredo Escarcega. "My opponent kept leaning in, and most of the time I was trying to avoid his head butts, but overall I am satisfied with my performance."