This holiday season, Jennifer Aniston, Sofia Vergara, Michael Strahan, Jimmy Kimmel and Luis Fonsi will once again join St. Jude Children's Research Hospital National Outreach Director Marlo Thomas in promoting the St. Jude Thanks and Giving campaign.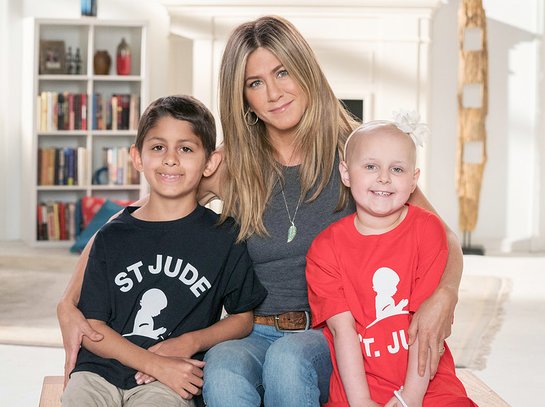 Each celebrity supporter will star alongside St. Jude patients in national television spots and digital shorts encouraging people to support St. Jude while holiday shopping.
Now in its fourteenth year, the St. Jude Thanks and Giving campaign has transformed the holiday season into a time of giving thanks by raising awareness and funds for the ongoing battle to end childhood cancer and other life-threatening diseases. Throughout November and December, consumers are asked to support the campaign by shopping at more than 70 leading national brands and spreading the word by sharing what they #GiveThanks for on social media.
"The St. Jude Thanks and Giving campaign is a holiday tradition that I love to be a part of each year," said Jennifer Aniston. "I have the privilege to work with these brave, beautiful children, as they face the fight of their young lives. To be a part of the St. Jude family, who continue to make a difference and help save children's lives with your continued support, is an honor and such an inspiration to me."
"Every year I'm so excited to make new friends like Ian and Alana, patients at St. Jude Children's Research Hospital. They are so courageous in their fight against childhood cancer. They are truly an inspiration to me," said Sofia Vergara. "The St. Jude Thanks and Giving campaign makes it easy for all of us to help the children of St. Jude. So please join me this holiday season to help save the lives of children with cancer worldwide."
The national television commercials will debut Thanksgiving week and run through the end of the year. In addition to national awareness commercials, several St. Jude celebrity friends appear in online videos including Lily Aldridge, Kelsea Ballerini, Banda MS, Jekalyn Carr, Brett Eldredge, Alejandra Espinoza, Ashley Greene, Laurie Hernandez, Adamari Lopez, The Property Brothers Drew and Jonathan Scott and Tye Tribbett.
"We are deeply thankful that these incredible stars lend their time and talents to support St. Jude," said Marlo Thomas, National Outreach Director for St. Jude Children's Research Hospital. "Year after year, they open their hearts to the children of St. Jude. Their generosity and commitment help us raise awareness and the critical funds that allow doctors and scientists to continue their groundbreaking research and lifesaving treatments."
St. Jude supporters will also be able to purchase merchandise crafted by their favorite celebrities and retailers to benefit St. Jude. This year, Sabrina Soto has designed a sherpa blanket with proceeds directly benefiting the hospital. Brooks Brothers, Domino's, HomeGoods, HSNi, Kmart, New York & Company, Pottery Barn, Pottery Barn Kids, Pottery Barn Teen, TUMI, west elm and Williams-Sonoma all feature products that give back to St. Jude.
Created in 2004 by Marlo, Terre and Tony Thomas – children of St. Jude founder Danny Thomas – the St. Jude Thanks and Giving campaign began as a holiday-focused fundraising effort and has grown into an annual tradition that unites celebrities, media, retail and corporate partners to support the lifesaving mission of St Jude.
The campaign's national television spots will air on network and cable television channels, as well as online, in both English and Spanish. In addition, a star-studded St. Jude Thanks and Giving movie trailer is shown by national theatre partners including AMC, Cinemark Holdings, Inc., Regal Entertainment Group, and many others. American Airlines provides backing via in-flight video promotion, inclusion in their in-flight magazines and on social media. In addition, Outcome Health, America's leading waiting room media network, shows the St. Jude PSA in physician offices nationally. All of the spots, as well as exclusive behind-the-scenes footage, will debut online in late November.