In recognition for their compassion and dedicated support of Children's Hospital Los Angeles (CHLA), late night talk show host and comedian Jimmy Kimmel, legendary Dodgers play-by-play announcer Vin Scully and global play and entertainment company Hasbro were awarded the Courage to Care award at CHLA's 'From Paris With Love' gala Saturday.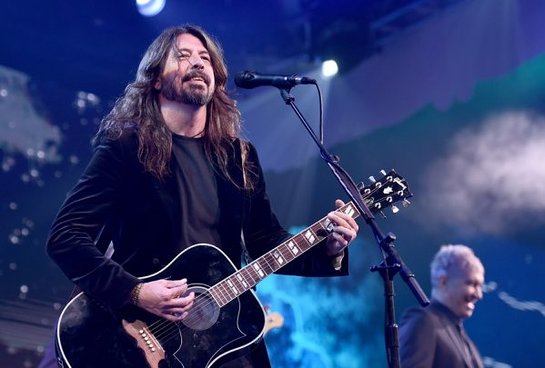 More than 1,400 prominent philanthropists, local dignitaries and supporters gathered at The Event Deck at L.A. LIVE for an event that raised $5.5 million to support the patient care and medical research that children who visit the hospital need.
"We won't rest until every child has access to the care they need to set them on the path to a healthy and successful life," Children's Hospital Los Angeles President and CEO Paul S. Viviano told the audience. "Children's Hospital Los Angeles is incredibly grateful to each of you for your support, which helps our hospital provide transformative compassionate care at more than half a million patient visits per year."
Late night talk show host and comedian Jimmy Kimmel touched millions of viewers around the world when he bravely shared the story about his son, William "Billy", who was 3 days old when he received open-heart surgery at CHLA for tetralogy of Fallot with pulmonary atresia, a rare congenital heart defect. Kimmel has been a stalwart advocate for health care coverage for all children and families in America.
Billy's surgeon, Vaughn A. Starnes, MD, was the evening's special guest and mission ambassador. Dr. Starnes, co-director of the Heart Institute and founder of the Division of Cardiothoracic Surgery at Children's Hospital Los Angeles, lauded the Kimmel family for their "bravery and sense of purpose" during Billy's health challenges.
"One of the best parts of my job is getting to know our brave young patients and their families and helping them fight formidable odds. Often they come to us when they've been told by other centers that nothing else can be done – and the Heart Institute offers them help," Dr. Starnes explained. "One of those families that I've come to greatly admire is the Kimmel family. They've taken their own personal experience and shared it with the nation, and in doing so changed the conversation about health care."
"So many children, from so many financial backgrounds are cared for so beautifully and with so much compassion," Kimmel said of CHLA, his voice breaking with emotion. "We can never repay them, but we're going to try."
For 67 years Vin Scully delighted baseball lovers with his one-of-a-kind play-by-play for the Los Angeles Dodgers. Since retiring in 2016, Scully has gained a new generation of listeners at CHLA by reading storybooks to patients in the hospital's Literally Healing room. He's also the voice of public service announcements supporting Proposition 4, the bond initiative to raise funds for children's hospitals throughout California.
"Two words that have always shaken my heart are 'children's hospital,' " said Scully, who noted that he and his wife Sandi have been blessed with six children, 16 grandchildren and three great-grandchildren. "Like every parent we worry a great deal…and then I visited that sacred place and saw the great spirit and dedication from those who work there." He then implored the audience "to vote yes on Proposition 4 to gain more funds for children's hospitals across the state."
Hasbro works passionately to create a universe where every child experiences hope, kindness and joy. The company has been a longtime CHLA supporter, providing charitable grants, product donations and employee volunteers at events throughout the year.
"Giving back is part of our DNA, and we are incredibly proud to support this organization and the important work that you do," said Brian Goldner, Hasbro chairman and chief executive officer. "Around the world, almost all of our employees volunteer with children's causes – and I know our employees who spend time here, with you, with the patients and families under your care, are especially honored by this recognition. They've seen first-hand your commitment to care, and the difference you make in the lives of children and families."
Emmy-nominated actor Jesse Tyler Ferguson hosted the event, which celebrated the ongoing support from the evening's honorees. Entertainment included Foo Fighters, who performed "Learn To Fly," "My Hero," and "Times Like These," and Pharrell Williams, who concluded the evening with a set that included hit songs "Get Lucky," and "Happy." Williams danced onstage with 9-year-old CHLA patient Eliana Georges, who basked in the moment with her favorite singer, whispering in his ear and sharing a warm, tearful embrace.
Each honoree was presented with a one-of-a-kind hand-blown artisan glass award created by Cheryl Saban, PhD, an honorary director of the hospital's Board of Directors and a member of the Foundation Board of Trustees. Television personality Mary Hart, an honorary director of the hospital's Board of Directors and a member of the Foundation Board of Trustees, presented the award to Scully; Bob Iger, chairman and CEO of The Walt Disney Company, presented to Kimmel; and Jennifer Page, a member of the Foundation Board of Trustees, presented to Hasbro.
They were joined at the event by Heidi Klum, Josh Gad, John Stamos, Teri Hatcher, Megan Henderson, Nikki DeLoach, Jamie-Lynn Sigler, Daisy Fuentes, Richard Marx, Luc Robitaille, Dustin Brown, Victoria Arlen, Mark Hoppus, Malin Akerman, Italia Ricci, Robbie Amell, Alex Meneses, Colleen Ballinger, Lake Bell, Heather Parry, president of Live Nation Productions, and Jeff Shell, chairman of NBC Universal Filmed Entertainment Group.
Hasbro was the gala's title sponsor. Gala Benefactor sponsors were Costco Wholesale, The Walt Disney Company and The Sydney Smith Trust. Premier sponsors were the Goldhirsch-Yellin Foundation and Kristin and Jeffrey Worthe, chair of the CHLA Board of Directors.