By Jennifer Conroy on
Look To The Stars Correspondent Jennifer Conroy recently attended Friends of the Israel Defense Forces Making a Difference: 70 Years of Heroes and Hope and filed this report.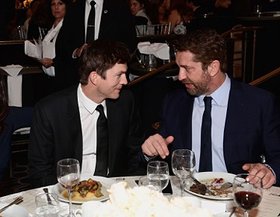 Haim Saban is an Israeli-American media proprietor, investor, philanthropist, musician, and producer of records, film & television. As the 232nd richest person in America this businessman is estimated a net worth of $3 billion with interests in entertainment, media, and finances. He reminds me of Iron Man. The opening scene of the movie, of a hero among many who can do just about anything with his fame, money, and power.
Haim Saban is indeed our modern day Iron Man leading the charge as it is the 12th year that Haim has chaired the event, but the gala has actually been around in some form since 1981. It's become more grand since Haim has started chairing, for instance this year Haim allowed more than 1,200 supporters to attend the FIDF Western Region Gala at the acclaimed Beverly Hilton in Beverly Hills. FIDF offers educational, cultural, recreational, and social programs and facilities that provide hope, purpose, and life-changing support for the soldiers who protect Israel and Jews worldwide. FIDF proudly supports Israel Defense Forces (IDF) soldiers, families of fallen soldiers, and wounded veterans through a variety of innovative programs and capital projects. FIDF is a non-political, non-military organization that does not and never has provided any form of military aid.
The evening, themed "Making a Difference: 70 Years of Heroes and Hope". It is here Saban and wife Cheryl Saban raised a record $60 million for the well-being of Israeli soldiers, and celebrated Israel's 70th anniversary. It sounds absurd that in just one night this organization can raise such an amount, and in 55 minutes. Perhaps it is the star studded roster of attendees, or insanely wealthy affiliates who supported Saban who donated and attended. The list includes prominent business, philanthropic, political leaders and celebrated names in entertainment, fashion, sports, and technology such as Ashton Kutcher, Pharrell Williams, Gerard Butler, Andy Garcia, Fran Drescher, Ziggy Marley, David Foster, Katharine McPhee, David Draiman, A. C. Green, Ralph Sampson, Robert Horry; Josh Flag; Israeli actress and star of hit Netflix show Fauda Rona-Lee Shim'on; Israeli actor Yaakov Zada Daniel, also of Fauda and an FIDF IMPACT! scholarship recipient; Consul General of Israel in Los Angeles Sam Grundwerg; business magnates and philanthropists Dr. Miriam and Sheldon G. Adelson, Serge Azria and Florence Azria; Managing Member of R.H. Book LLC and Chairman of Jet Support Services Inc. Robert Book and his wife, Amy; Founder and President of the International Fellowship of Christians and Jews Rabbi Yechiel Eckstein and his wife, Joelle; GUESS Founders Maurice and Paul Marciano; FIDF National Chairman Rabbi Peter Weintraub; FIDF National President Robert Cohen; FIDF National Board Member and Western Region President Tony Rubin and his wife, Linda; FIDF National Director and CEO Maj.Gen. (Res.) Meir Klifi-Amir; and FIDF Western Region Executive Director Jenna Griffin.
As a guest and first time attendee to the FIDF Western Gala I was shocked at the level of donations under one hour. The floor opened up with $330,000, then the host and soldier donating $1,000, cut to an anonymous donation from someone for $500,000k in a matter of seconds. Saban, egging on friends he knew who could spend for donations he would match, figures from one to two million were being tossed as if it was shopping in Macy's. Rabbi Eckstein, who has contributed more than $45 million to FIDF in the last few years, donated $5 million at the gala.The top donations announced at the event were $10 million from Dr. Miriam and Sheldon G. Adelson and $10 million from Haim and Cheryl Saban. No big deal. With funds and friendships like this, Haim should consider creating other organizations that may stop global warming.
We are thrilled that so many members of our community, including major Hollywood figures, are coming together to help us support the brave men and women of the IDF," said Haim Saban. "Cheryl and I are extremely proud to chair this event for the 12th year, and to be part of this incredible organization that inspires more and more supporters and contributions every year."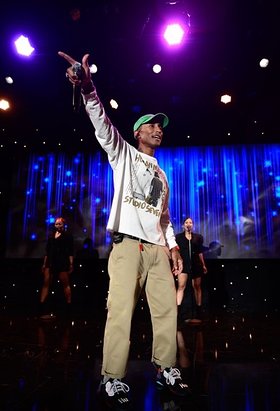 The event featured a special performance by Pharrell Williams. Presiding as the evening's master of ceremonies was Staff Sgt. (Res.) Izzy Ezagui, an American who moved to Israel, became a decorated squad commander in the IDF, and returned to the battlefield after losing an arm in combat. The gala presented a moving program, which told the 70-year history of Israel through the eyes of its heroes, including the multigenerational story of the Duvdevani family, whose members are commended for their heroic actions protecting Israel.
The experiences of the IDF's paramedics — the heroes behind the heroes — were shared through the stories of Staff Sgt. Yotam, a paramedic in the Paratroopers' Brigade, who helped an American soldier in need of critical medical treatment during Operation Swift Response, an international exercise in Poland; Staff Sgt. Erez, who served as a combat medic in the "Egoz" unit of the Golani Brigade during the 2014 Operation Protective Edge, and supported his unit in the Shuja'iyeh neighborhood of Gaza, arriving at the scene under heavy fire and saving the life of his severely injured commander; and Lt. Noam, a paramedic in the Armored Corps who attempted to perform resuscitation on a critically wounded soldier during Operation Protective Edge, despite his low chances of survival. Finally, guests celebrated the triumph of the human spirit as Col. Shai Siman-Tov, who was critically wounded during Operation Protective Edge, shared his story. His injuries left him paralyzed and in need of a wheelchair; however, undeterred by his injury, Shai returned to the IDF and is now a team leader at the Tactical Command College. In 2017, he was promoted to the rank of Colonel.
Funds raised at the gala will provide much-needed and well-deserved services such as academic scholarships to combat veterans, financial assistance for soldiers in-need, support for Lone Soldiers throughout their service and upon release, crucial aid for wounded veterans and the families of fallen soldiers, weeks of rest and recuperation for entire IDF units, as well as educational, cultural, and recreational facilities. The evening presented a rare and exclusive opportunity to pay tribute to the state of Israel and its brave men and women in uniform.