Little Kids Rock hosted its 10th annual benefit event to advance its mission of transforming lives by restoring, expanding and innovating music education in schools.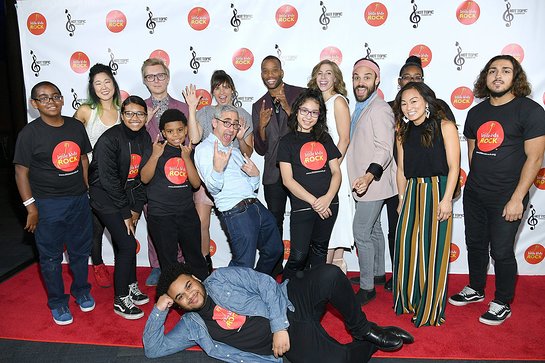 Honorees for the evening were Trombone Shorty who received the Rocker of the Year Award presented by Jon Batiste and Lake Street Dive who received the Innovators of the Year Award presented by Tamron Hall. Special guests included Bernie Williams, Grace Kelly and Will Lee. The evening was hosted by Paul Shaffer and took place at the PlayStation Theater in Times Square.
Honorees and guests for the annual benefit through the years have included Lady Gaga, Elvis Costello, Bonnie Raitt, Smokey Robinson, Steve Miller, Steven Van Zandt, Graham Nash, Joan Jett, Mike Myers, Paul Shaffer and David Letterman.
The show began with a student medley in tribute to Aretha Franklin. Later on, students led the crowd in a rendition of Hamilton's "My Shot" followed by inspired performances by Innovators Of The Year, Lake Street Dive, and Rocker Of The Year, Trombone Shorty. Jon Batiste, Bernie Williams, and Grace Kelly also came on-stage for special performances. The show closed to a standing ovation with a group performance of "Iko Iko" and "When the Saints Go Marching In". Overall, the event raised over $1 million in support of Little Kids Rock.
"Watching great artists like Trombone Shorty, Lake Street Dive, Jon Batiste, Paul Shaffer and others giving so freely to support our students reminds us all of how much good there is in the world. Their example is so valuable to all of us." States CEO David Wish.
Little Kids Rock is a national nonprofit dedicated to building a world where kids can live rich, purposeful lives by ensuring that all public-school children have the opportunity to unlock their inner music maker. Its student-centered approach to teaching brings popular music education into classrooms and provides teachers and students the tools to learn music through the genres that resonate with them, educationally and emotionally. In addition to getting students playing the music they love immediately, the program focuses on improvisation, composition, and collaboration.
Since 2002, Little Kids Rock has served more than 850,000 kids via 5,000 teachers in 5,000 school across 45 states. The program currently serves more than 400,000 youth nationwide, and this year's benefit will help the organization reach 500,000 students through music education this school year. Every dollar that the organization raises helps supports bringing more music to more kids – $5,000 can launch a lasting music program in a school, serving 180 students.
The event was presented by Hot Topic Foundation with sponsors including Wurrly, The Sessions, Niagara Cares, Bohemian Foundation, City Winery, Dot Blockchain Media, Shout Factory, Harman, Atlantic Records, LinkedIn, NASDAQ, Universal Music Group, Steve Madden, Cal Ripken Sr. Foundation, Paysett.