By Myrlia Purcell on
Sir Sean Connery hosted the 8th annual "Dressed to Kilt" fashion show benefitting wounded soldiers as part of Tartan Week in New York on Monday.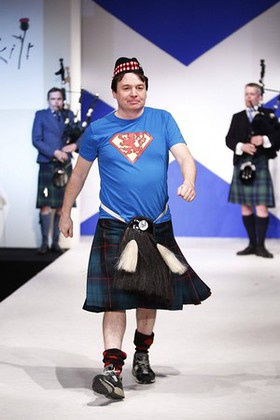 The crowd reeled with excitement as Mike Myers, Al Roker, Alan Cumming and Kyle MacLachlan took to the runway in kilts and sporrans.
Also seen sashaying down the runway were Sam Waterston, Kelly Bensimon and Kellie Pickler.
Joan Jett was a crowd pleaser in a door knocker bra and feathered mohawk, fully embodying this year's theme of mad, eccentric style and "Anything Goes."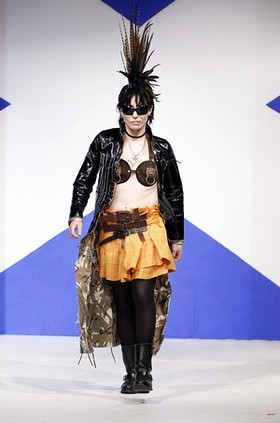 Olympic speedskater Shani Davis accessorised his outfit with his gold medal, while Matthew Modine carried a bicycle up the runway in recognition of his charity, Bicycle For A Day.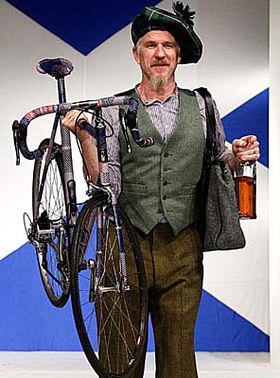 Modine told NY1's George Whipple, "…I love the Wounded Warrior Project and I love everything that Dressed To Kilt does to help those soldiers who have lost limbs, to support them. It's such a great event."
Connery watched from the side with Donald and Melania Trump as the celebrities were joined on the catwalk by veterans from the Wounded Warrior Project. The three highly decorated wounded warriors, amputees Dan Nevins, Ryan Kules and Dawn Halfaker donned full Scottish garb, and brought the audience to their feet.
The annual event benefits the iconic actor's Friends of Scotland charity, with funds raised going to Wounded Warrior Project, the Paralyzed Veterans of America, and its Scottish equivalent, the Erskine Hospital.
The Friends of Scotland charity and the producers of the event believe that a tremendous debt of gratitude and thanks is owed to the young men and women on both sides of the Atlantic who have risked their lives. They are an apolitical organization, and are also outspoken when it comes to acknowledging the debt that is owed to these courageous young men and women.
A pop-up shop at 13 East 69th Street, at the corner of Madison Avenue will continue to raise funds for the charities until April 12th. All of the new designs seen on the runway on April 5 will be on view and for sale Monday April 12. The public and buyers are encouraged to visit.
Photo credit:Reuters