On Sunday, September 26, stars from TV, Film, Sports and Music united with their favorite non-profit organizations for The Ultimate Slam PaddleJam, a ping pong celebrity doubles tournament to raise awareness for the crucial issues of multiple non-profits.
Taking place at The Music Box in the heart of Hollywood, the 2010 PaddleJam is the launch of an annual initiative uniting stars, non-profits and cause-conscious brands to showcase the many ways to make a difference without necessarily reaching into one's wallet.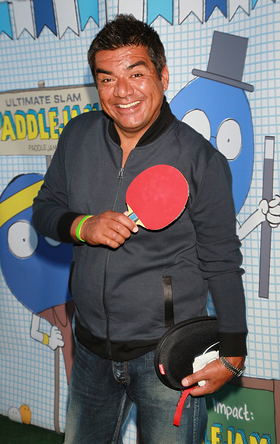 This year's PaddleJam brought together celebrity participants George Lopez, Zachary Levi, LMFAO, Greg Grunberg, Simon Helberg, Harold Perrineau, David Banner, Taylor Cole, Jesse Williams, Sherri Saum, Aimee Garcia, Josh Henderson, Danielle Dotzenrod, Jessica Sutta, Hal Sparks and Quinton Aaron, and united them with top non-profits including Rock the Vote, Oceana, The Humane Society of the United States, Habitat for Humanity of Greater Los Angeles, The Lopez Foundation, Equality CA and Youth Mentoring Connection.
After an evening of spirited play & music by DJ Eye, DJ Bizzy and the night's emcee DJ Reflex, TEAM Rock The Vote (with the chart-topping LMFAO) finally beat out TEAM Habitat for Humanity of Greater Los Angeles (with Chuck's Zachary Levi and Big Bang Theory's Simon Helberg) for the title of 2010 PaddleJam Champions. As the prize, Rock the Vote will now receive all the proceeds from the autographed Sears/Joola ping pong table signed by all of the tournament's celebrity players through an auction launching this week through Clothes Off Our Back.
"While donations to Non-Profits are always welcomed and crucial, I wanted to create a project that celebrated the multitude of opportunities available, across a wide spectrum of cause categories, to make a positive impact on the world no matter your financial situation," said PaddleJam creator and producer Kevin Seldon.
The PaddleJam website gives audiences around the globe the chance to take immediate action without spending anything more than their time. For example, through Oceana, visitors can sign a petition to demand a clean energy future; for Youth Mentoring Connection, visitors can sign up to be a youth mentor; through The Humane Society of the United States, they can pledge to adopt their next pet, and through the Ann & George Lopez Foundation they can sign up to become an organ donor. The auction items from all the 2010 participating non-profits can be found at www.PaddleJam.org.