Children of all ages believe in sharing good times and making the world a better place – and that spirit of togetherness will be on full display at the Foundation's 17th Annual Kids for Kids Family Carnival 2010 in November!
This highly anticipated, one-of-a-kind event is one of the Elizabeth Glaser Pediatric AIDS Foundation's signature productions. It brings children and their families together with celebrities, artists, top restaurants, and corporate partners to raise awareness and critical funds to eliminate pediatric AIDS once and for all.
Attendees will be able to sample food from some of New York's most renowned restaurants, mingle with notable entertainers and artists, and enjoy unique games and activities for kids of all ages.
This year, the Foundation welcomes the support of a star-studded list of celebrities, including Hugh Jackman, Heidi Klum, Nigel Barker, Mario Batali, Kenneth Cole, Tom Colicchio, Mariska Hargitay, TR Knight and many more.
Most importantly, however, the enthusiastic response to the carnivals each year enables the Foundation to continue its lifesaving efforts in 17 countries around the world.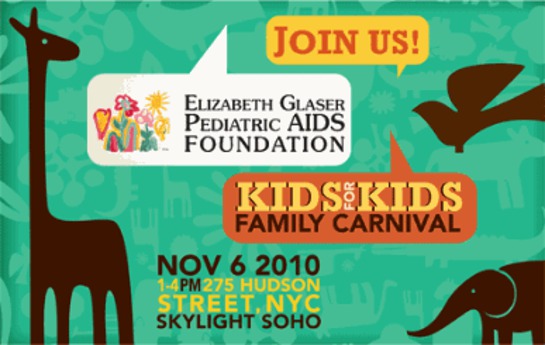 The theme of this year's Carnival is "Tunaweza," a Swahili word that means "together, we can."
The event takes place on November 6 at Skylight Soho, 275 Hudson Street, NYC from 1pm. More info can be found here.