By Tim Saunders on
British funnyman Russell Brand is using Edward Norton's Crowdrise website to raise money for an initiative set up by David Lynch for soldiers suffering from post-traumatic stress.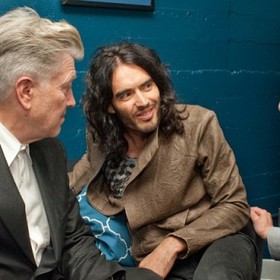 "Operation Warrior Wellness is a national wellness outreach to help 10,000 veterans overcome Post-Traumatic Stress Disorder (PTSD) through Transcendental Meditation," writes Russell. "Staggering statistics from the Veterans Administration show that more soldiers are dying from the trauma of combat in Iraq and Afghanistan than at the hands of enemy combatants. Over 400,000 veterans have been diagnosed with PTSD since 2001, with 18 veterans committing suicide each day.
"For me, meditation put a distance between myself and addiction. It saved my life. This holiday, please support Operation Warrior Wellness with the David Lynch Foundation.
"Research shows Transcendental Meditation improves mental and physical health, and reduces symptoms associated with combat stress and PTSD, including anxiety, depression, anger episodes, hypervigilence, insomnia, and substance abuse.
"Transcendental Meditation is a simple, easily learned mental technique, which provides the body with deep rest and calms the mind. The technique does not involve any belief, religion, philosophy, or change in lifestyle. To date, more than six million people worldwide have learned TM.
"Let's help them overcome PTSD so they can live in peace. Do it for your brothers, sisters, mothers and fathers who are doing their part to protect their country."
Find out more here.
Edward Norton set up Crowdrise to encourage people to raise money for charity and have fun while doing it. Over Christmas, 2010, he used the website to raise money for the Maasai Wilderness Conservation Trust by offering prizes for donations.
"The Maasai Wilderness Conservation Trust is a fantastic organization," he said. "I got involved with MWCT 10 years ago and have watched it grow from a humble effort by a few inspired people out in the wilderness into sophisticated professional team with incredible partners and supporters all over the world. I agreed to be the President of the Board a few years ago and I believe deeply in the importance of the work this group is doing.
"This time last year three of the Maasai guys from MWCT came to NY and ran the NY Marathon with me. Amazingly generous people from all over followed our campaign and kicked in to support us and we raised an unbelievable $1.2 million. That funded all of our work in 2010 and will even cover most of the budget for 2011…but not quite all.
"So we're working hard to raise about $350,000 that we need to keep this going strong next year.
"If we could get a crowd together here and kick in a good chunk toward that goal, that would be truly awesome. And if you donate, we'll get your contact info and I promise you at least one very informative and enjoyable update letter from me every year about what we managed to achieve with your donations."
Find out more here.