Demi Moore is a special contributor to CNN's new documentary – Nepal's Stolen Children – to air on June 11.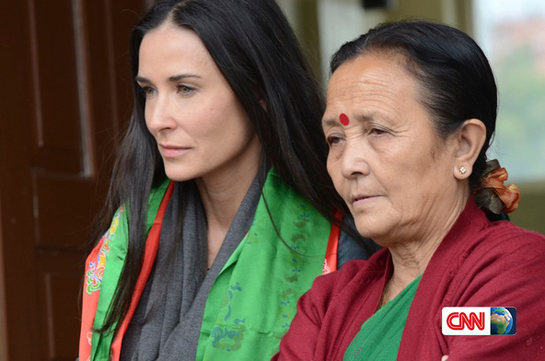 In Nepal's Stolen Children: A CNN Freedom Project Documentary, actress and anti-sex trafficking activist Demi Moore partners with the CNN Freedom Project to shine a light on the shocking trade of human life in Nepal. As a special contributor to the CNN Freedom Project, Moore joins up with 2010 CNN Hero of the Year Anuradha Koirala and her organisation, Maiti Nepal, which has rescued more than 12,000 stolen Nepalese children from sex trafficking since 1993.
Moore is a passionate advocate for victims of human trafficking and through her organization, DNA Foundation, she is outspoken about the need to address and attack the demand side of sex trafficking. Nepal's Stolen Children follows Moore as she spends time in the Maiti Nepal shelter, hearing emotional first-hand accounts from dozens of girls who had been trafficked. She travels from Kathmandu to Bhairahawa, a hotbed of human trafficking, to document how and where girls from Nepal are smuggled into India to work in the sex trade. Moore also meets with Nepal's Prime Minister, Jhalanath Khanal, to discuss his country's problem with sex trafficking and how it's being addressed.
CNN is marshalling its global resources for a major initiative that takes on human trafficking with the launch of The CNN Freedom Project: Ending Modern-Day Slavery, it was announced today by Tony Maddox, Executive Vice President and Managing Director of CNN International.
Throughout 2011, CNN's reporting will expose the horrors of modern-day slavery, highlight the growing efforts to stop the trade and exploitation of human beings and amplify the voices of the victims.
"It's our journalism-based assertion that this is the greatest uncovered breaking news story of today, and CNN plans to rip the lid off," said Maddox. "The inhumanity of those who trade humans is truly shocking and should be stopped. Our coverage will spotlight not just those responsible, but the many courageous groups and individuals on the frontlines doing genuinely admirable work."
Launching today, CNN International will lead this initiative with special reports on trafficking on every CNNI signature program for the full first week of the 'The CNN Freedom Project.' Throughout the year, CNNI will air numerous reports on the subject – with a focus on solution-oriented information and analysis – within specific programs and documentaries, some within the award-winning World's Untold Stories strand.
Increasing the scope and reach of this work, 'The CNN Freedom Project' will air across CNNI and CNN.com in a powerful and distinct online collaboration which will embrace viewer involvement and first-hand accounts. 'The CNN Freedom Project' site on CNN.com will educate, motivate and unravel the complicated tangle of criminal enterprises trading in human life.
This week Richard Quest looks at forced labor and corporate responsibility with Dan Henkle and Robert Fisher of Gap, Inc.; Becky Anderson speaks to a Ugandan woman forced into slavery and shows the many forms slavery can take; and Jim Clancy sits down with U.S. President Barack Obama's anti-trafficking czar Luis CdeBaca and U.N. Ambassador Mira Sorvino about what traffickers looks like and how they operate. Beyond the initial launch, CNNI will commission Connect the World, Quest Means Business, News Stream, World Business Today, The Brief and Prism to utilize its expertise across a number of aspects of trafficking.
CNN's roster of international correspondents are covering this story live from five continents: From Romania Dan Rivers looks at Romanian girls who were trafficked into a UK-based prostitution ring; in Africa David McKenzie talks to freed slaves from Sudan; Sara Sidner has an exclusive series of reports from northern India where residents were enslaved by landowners; from the U.K. Atika Shubert explores the varying prostitution laws in Sweden and Denmark, and how they compare and contrast. Other correspondents include Stan Grant and Eunice Yoon in China; Jim Bittermann in France; Reza Sayah in Pakistan; Kyung Lah in Japan; Christian Purefoy in Nigeria; Paula Hancocks in South Korea; Matthew Chance in Russia; Colleen McEdwards in the U.S.; Al Goodman in Spain; Nkepile Mabuse in South Africa; Shasta Darlington in Cuba; Kevin Flower in Israel; and Mohammed Jamjoom in the UAE.
CNN will also collaborate with a number of celebrities and celebrity foundations around the world including Demi Moore and Ashton Kutcher; Ricky Martin; Emmanuel Jal; Anil Kapoor; Peter Gabriel and more. Through these geographically-strategic relationships, CNN will develop unique content that highlights the great work that's being done all over the globe.