UNICEF is delighted to announce that Princess Beatrice will be auctioning her royal wedding hat on eBay, with money raised from the auction to be donated to UNICEF and Children In Crisis.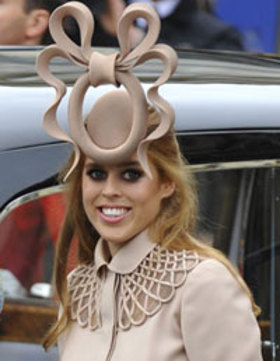 The auction began today at ebay.co.uk/royalhat, and will end on 22 May. The hat, worn by Princess Beatrice at the wedding of the Duke and Duchess of Cambridge, was designed by the world famous London milliner Philip Treacy.
After the wedding, the hat was extensively talked about in the media, and even inspired its own Facebook page.
"I've been amazed by the amount of attention that hat has attracted," said Princess Beatrice. "It's a wonderful opportunity to raise as much money as possible for two fantastic charities. I hope whoever wins the auction has as much fun with the hat as I have."
Money raised from the eBay auction will be split fifty-fifty between the two charities to spend on their vital work with children.
Julie Weston, Director of Fundraising at UNICEF UK, said: "We are thrilled that Princess Beatrice is putting all the publicity around her hat to the best possible use, raising money for the world's most vulnerable children. We take our hat off to her for helping to change children's lives."
Koy Thomson, Chief Executive of Children in Crisis said: "Princess Beatrice is a tremendous ambassador and we are extremely grateful for her support with this great initiative."
Philip Treacy has designed hats for Givenchy, Chanel and Valentino, amongst others, and created many hats for the Harry Potter series of films. He was awarded an honorary OBE in 2007.
"I've been surprised by the overwhelming response to the hat," Treacy said. "Isabella Blow introduced me to the magic of hats, and I'm delighted, flattered and touched by Princess Beatrice's decision to donate the hat to charity. I hope that people all over the world will be generous and that this hat will benefit many. A hat is a symbol of positivity."
Photo: © Toby Melville / Reuters