Continuing with its successful male designer trend, Kim Kardashian's ShoeDazzle has inducted celebrity media mogul and author Perez Hilton into its popular "Celebrity Shoe Design Program for Charity."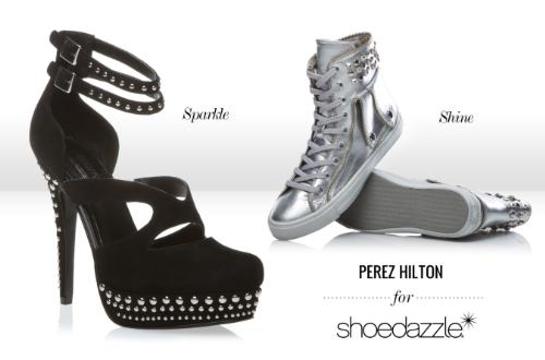 Hilton has designed not one but two shoes for ShoeDazzle, displaying his ambitious nature. The charity Hilton has chosen to benefit from the sales of his shoes is GLSEN: Gay, Lesbian & Straight Education Network. 100% of the profits from both shoes will be donated to this national education organization that addresses LGBT issues in K-12 schools
The first shoe Hilton designed, named "Sparkle," is a black faux suede pump with silver stud detailing on the heel, platform and dual ankle straps. The second is a casual unisex silver metallic sneaker with stud embellishments and zipper detailing, named "Shine." The pump and sneaker will be available on November 11th, exclusively in ShoeDazzle showrooms.
In addition to designing both the "Sparkle" and "Shine" shoes, Hilton has been continuing to build his media empire with his multiple blog sites including perezhilton.com, cocoperez.com, teddyhilton.com, perezitos.com and fitperez.com.
"This holiday season will be extra merry because I have partnered with ShoeDazzle to release two fabulous shoes for my female fans AND their boyfriends too! I designed one amazing shoe that Carrie Bradshaw would drool over. But I also wanted to make a unisex and sophisticated sneaker that I could wear too! We did just that, and I'm especially thrilled that we are going to be able to raise money for my charity of choice this year, GLSEN – the Gay Lesbian & Straight Education Network. Their vital work is helping youth all over America! Buying some fierce shoes can do a lot of good too, and that's gonna make this holiday season truly faboosh!"
"We are so excited to be displaying two celebrity designed shoes in our ShoeDazzle showroom this time around," said ShoeDazzle COO Deborah Benton. "Perez's passion and determination was great to work with and both of his shoes are sure to be a success with our members."
In addition to donating 100% of profits to GLSEN from sales of Hilton's exclusive designs, ShoeDazzle is presenting a further fundraising opportunity to first time clients, Perez Hilton fans and GLSEN supporters: $5 from any first time purchase on ShoeDazzle.com using the code PEREZ at checkout, beginning October 24 – November 15, will be donated to GLSEN as well.
Prior to Perez's shoe release, ShoeDazzle partnered with Carson Kressley, La La Anthony, Jenny McCarthy, Carmen Electra, singer Melanie Brown and actresses Kristin Cavallari, Kristen Bell and Kristin Chenoweth for their Celebrity Shoe Design Program for Charity. The company launched its first cause-marketing campaign in fall 2009, offering a pink pump benefiting Susan G. Komen for the Cure during Breast Cancer Awareness Month. In other cause related products, ShoeDazzle designed a special red pump and clutch to support WomenHeart and raise awareness for American Heart Month as well as accessories benefiting breast cancer awareness.