More than 500 guests from over eight countries gathered on Saturday night in New York City to celebrate the Happy Hearts Fund Land of Dreams: Haiti event and to recognize "Heart of Gold" honoree Renee Haugerud and "Lifetime Achievement" honoree Sean Penn.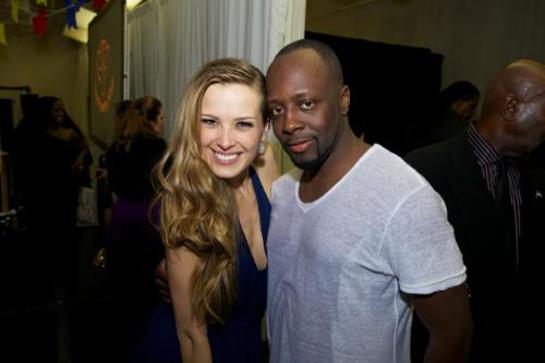 Photo: Petra Nemcova, Founder and Chairwoman, Happy Hearts Fund and evening performer Wyclef Jean.
Margaret Brennan of Bloomberg Television opened the program by introducing Happy Hearts Fund Founder and Chairwoman, Petra Nemcova and Executive Director Phillip Caputo, who thanked guests and sponsors for their commitment to rebuilding schools and children's lives after natural disasters crediting the formation of strategic partnerships as the key to the organizations success, "in its first five years Happy Hearts Fund has built or rebuilt 56 schools in nine countries benefitting more than 34,000 children and 337,000 community members," stated Mr. Caputo.
Nemcova delivered a heartfelt speech recounting the many special moments she has experienced while on site visits and their first school opening in Haiti, "the goals of the night were to share the beauty, culture, art, spirit and other treasures of Haiti with our guests here in New York so they could see the many great opportunities Haiti has to offer and to raise funds so more children who are being forgotten can have new schools and a brighter future."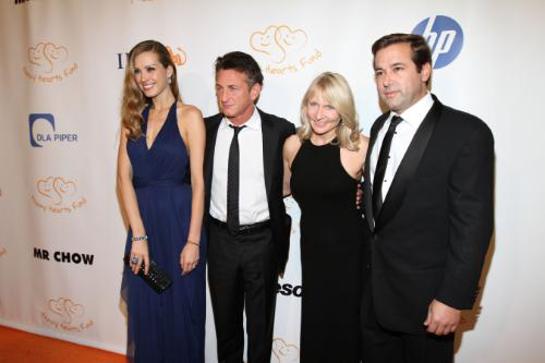 Photo: Petra Nemcova; Sean Penn, Founder & CEO, J/P Haitian Relief Organization and Lifetime Achievement Honoree; Renee Haugerud, Founder & CIO, Galtere LTD. and Heart of Gold Honoree; Phillip Caputo, Executive Director, Happy Hearts Fund
Haiti Foreign Minister, Laurent Lamothe, delivered a "State of Haiti" address encouraging people to believe in the future of the country informing guests "part of the contributions from the evening will be used to strengthen the 'Education for All' program" an education program initiated by President Martelly which aims to send one million children to school for free by the end of his term.
Inter-American Development Bank (IDB) Vice President Julie Katzman announced that "IDB has committed 200 million dollars for education initiatives in Haiti and will be rebuilding schools with Happy Hearts Fund through a flexible co-financing partnership."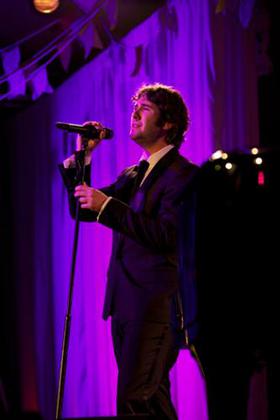 Josh Groban
Award winning singer, songwriter Josh Groban delivered a moving set concluding with "You Raise Me Up" that brought the crowd to their feet. Mr. Groban also announced his Find Your Light Foundation will be donating musical instruments and a music teacher to the Happy Hearts Fund school in Haiti.
Arpad Busson provided a touching video tribute to "Heart of Gold" honoree Renee Haugerud, Founder and CIO of Galtere Ltd. and Happy Hearts Fund board member. An endearing introduction by Judith Glaser welcomed Ms. Haugerud to the stage who delivered a message of hope and promise for the future of Haiti stating that, "sustainable solutions will lead Haiti back to prosperity and there is enough love in the room tonight to uplift a nation."
Bono and The Edge from U2 delivered a tribute to the evenings Lifetime Achievement recipient and a powerful video featuring the work of J/P Haitian Relief Organization and the RWH Foundation, an opportunity to join both NGO's on humanity missions was later auctioned and sold twice garnering $150,000, followed by a riveting introduction by Edner Nonez brought the room to their feet as Founder and CEO of J/P HRO Sean Penn took the stage to accept his Lifetime Achievement Award. Mr. Penn delivered a passionate speech encouraging us all to be heroes and calling for the sustainable development of Haiti stating that, "education is Haiti's current emergency and in the absence of a proper education dies the mind and the soul." Mr. Penn acknowledged President Martelly as a potential hero indicating that "against all odds, the Haitian people were able to stand up and demand a clear and bold choice in the Presidency" stating further, "we really are at that point in Haiti where the dots are connecting, The IDB, The World Bank, the Government and so many NGO's are working together … let's make now that shining moment for Haiti and an example of what we can do."
Simon De Pury, Chairman, Phillips De Pury & Company, led a spirited live auction that concluded with donors directly supporting the building of kindergartens and schools in Mexico, Indonesia, Haiti and Peru. Eleven schools were pledged and the live auction portion of the night raised over one million dollars.
Award winning singer, songwriter Wyclef Jean performed an inspired set of Haitian carnival music mixed with classic Fugees hits for over an hour and was joined on stage by former Fugees band mate, Pras Michel, several carnival dancers and guests while the entire room danced well into the night. The event concluded with guests cheering, "I want to go to Haiti!"
Photos: Happy Hearts Fund via PR Newswire