A number of famous vegetarians are featuring on a limited edition sheet of US postage stamps launched by PETA.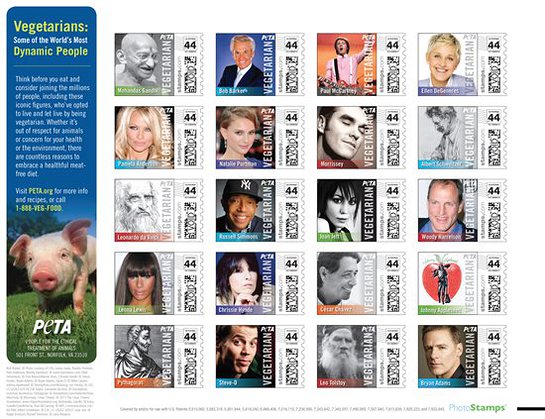 According to PETA.org: "The VIPs featured on these unique postage sheets ditched meat from their diets either out of concern for their health, for the environment, or for animals—and our world would not be the same without their accomplishments. Although the individuals featured in this series seem very different at first glance, they are united in their respect for animals."
Among the stars featured are Paul McCartney, Bob Barker, Pamela Anderson, Woody Harrelson, Joan Jett, Ellen DeGeneres, Russell Simmons, Chrissie Hynde, Bryan Adams, Steve-O, Leona Lewis, Natalie Portman, Morrissey and many more.
The stamps can be purchased here.