By Abhishek Seth on
Last month the world came together once again for the Pencils of Promise Annual Gala.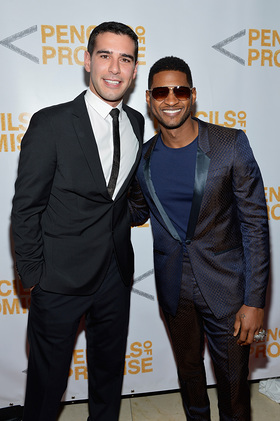 Under the flying arches of granite and catalan-vaulted ceiling of golden and pink hues, power, affluence and eminence came together for education.
On Thursday, October 25th, 2012, Pencils of Promise held its Second Annual Gala on the Upper East Side of Manhattan. In attendance, Usher Raymond IV, Scooter Braun, and the Former First Lady of UK Sarah Brown graced the event as honorees.
The night had one purpose: Raise enough money to build the commemorative 100th school.
Pencils of Promise (affectionately called PoP) is adamant on giving every child access to education. The for-purpose organization builds schools, programs, and global communities around the shared goal of education for everyone.
PoP, since its inception in 2008 by Adam Braun, has delivered 2.8 million hours of education all across high-need areas of Laos, Nicaragua, Guatemala and Ghana. In just four years, more than 99 schools have blossomed into education power plants.
Pencils of Promise — recognized by many notables including Katie Couric — is heavily supported by Justin Bieber. One dollar of every Believe Tour ticket sold is donated to PoP. Already the Tour has made the unprecedented revenue of $6.2 million, with portions going to one of the most impactful new nonprofits in the world.
This Belieber microcosm is impressive. But the potential industry-wide macrocosm: a game-changer.
According to the Global Industry Analysts, by 2015, the worldwide entertainment industry is expected to make $1.4 trillion. The global education crisis is expected to be erased annually with $6 billion — less than 1% of the projected revenue for the entertainment industry.
If just one percent of every CD, DVD or concert ticket were donated annually to education, every citizen of the world would have basic life insurance.
Carrying the night's line-up of events as the Master of Ceremonies, I caught up with Adam before the gala.
Adam, what about education attracted your support?
"Education is the single greatest tool to unlocking the potential within an individual. My family always prioritized education in our house growing up, and I've seen it transform countless lives."
Were you raised to think about others, or did some event inspire you?
"I was raised to stand up for others.
"My grandparents were Holocaust survivors; so, we were always aware of the importance of not being silent when an injustice was occurring to another global citizen.
"When traveling as a 21-year-old through the developing world for the first time, I met a young boy begging on the streets. When I asked him what he'd want if he could have anything in the world, he answered: A pencil. And from that moment forward, I knew that I would spend my life working towards enabling every child to have access to a quality education."
In just a few years, you have taken the education space by storm. What do you see yourself doing in the next 10 years?
"I hope to see a shift in the way people view "non-profit" work.
"I hope it's seen as "for-purpose" work, so that each organization or individual dedicates themselves to the intersection of profit and purpose, where they can most help their family and create good for others.
"I hope to help lead that charge, and in 10 years, I hope to see the number of children without access to education go from 61 million to a number much, much lower."
The life of the Second Annual Gala: Usher. Arguably one of the best-selling artists of our time, Usher Raymond IV stole the show, and helped raised thousands of dollars for PoP.
In addition to out-bidding everyone at the Live Auction for an endearing $12k Goldendoodle puppy, the Grammy-winning R&B singer personally gifted two private dance lessons in his home, raising $130k for Pencils of Promise.
That night I caught up with him.
So, Usher, everybody's talking about how Drake just went back and got his high school diploma. If you had to go back, what would you study?
"Culinary college would be something that would be fun. I've always wanted to be a dessert chef, believe it or not.
"I make an incredible breakfast—my breakfast is mean. My little boys love my breakfast. I can do sweet and savory, or down-home grits and good stuff."