Fashion designer Kenneth Cole and actress Sarah Jessica Parker have joined forces in support of amfAR, The American Foundation for AIDS Research, with the creation of a limited edition evening bag that will be auctioned live at the New York amfAR Gala on February 6.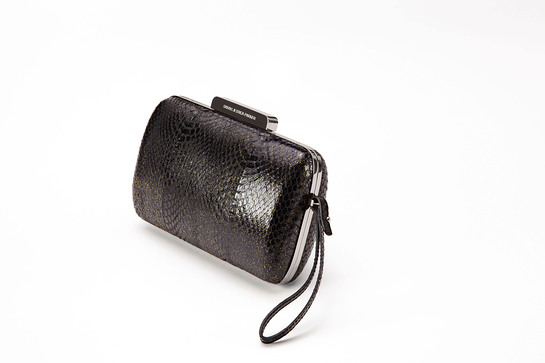 The bag, which features the inscription "We're All Potential Carriers", includes a condom inside, and was inspired by the notion that every woman should look stylish and be safe.
In addition to being auctioned at the amfAR Gala, the bag will make its runway debut at the Kenneth Cole fashion show on February 7. In order to raise additional funds for amfAR, 20 of the bags will be sold during the live stream of the fashion show with 100% of the proceeds being donated to amfAR.
"It's been an amazing experience to collaborate with Kenneth Cole on the design of a handbag supporting amfAR," says Sarah Jessica Parker. "Kenneth has used his platform as a fashion designer for nearly 30 years to advocate for amfAR's mission to end AIDS. I'm thrilled this bag will help raise money and awareness for the 30 million people living with HIV and AIDS."
The gold-dusted black genuine snakeskin clutch will retail for $1,000 and has a gunmetal frame etched with Sarah Jessica Parker's name. It also features a snake chain that can be tucked inside, a wrist strap, and includes a wallet with room for credit cards and a condom.


After taking a hiatus from the runway for seven years, fashion designer and Chairman of amfAR wanted his return to Fashion Week to be a salute to amfAR. During the live stream of his show and throughout Mercedes-Benz Fashion Week, Kenneth will also be donating $1 (up to $30K) to AIDS research @amfAR for every @KennethCole follower that tweets using #KCRUNWAY.
As the Chairman of amfAR, Cole is also working closely with IMG Fashion to bring the charities message to Mercedes-Benz Fashion Week. The amfAR New York Gala, as part of the official calendar, will be kicking off the event with a special ribbon cutting with Kenneth and other top American designers. Additionally, the double red ribbon AIDS pin, which Cole re-interpreted in collaboration with the MTV Staying Alive Foundation in 2012, will be featured in the official event gift bag going to industry VIP's. Guests of the event will see amfAR's presence throughout Lincoln Center via special video footage and a unique instillation created by Mercedes-Benz USA.
"As I returned to Fashion Week it was important for my show to be about something bigger than just fashion. While we've made tremendous strides towards finding a cure for AIDS, there is still much work to be done, and so it's important to keep reminding people that we're all potential carriers. Partnerships with amfAR, devoted role models like Sarah Jessica Parker , and organizations like IMG Fashion make a critical difference in getting the AIDS message out there," says Kenneth Cole. "The fact that we are able to reach such an influential and inspiring group of people (with this message) during Mercedes-Benz Fashion Week is extremely powerful."
"Kenneth Cole is one of America's most beloved designers and has always been an integral part of Mercedes-Benz Fashion Week's history," says Peter Levy, SVP and Managing Director, IMG Fashion Events and Properties. "His dedication to AIDS research is extraordinary and we hope that by supporting amfAR and featuring his Collection on our runways, we are able to further promote this critical message."
Kenneth Cole will be honored by amfAR on February 6 at the New York Gala for his 27 years of AIDS activism, and his runway show will be held the next day on February 7. Additionally, Kenneth Cole is the executive producer of the HBO documentary film "The Battle of amfAR" which premiered January 18 at the Sundance Film Festival.
Source: PR Newswire